Even the best photos can often be improved by a few quick edits. This is true with traditional digital cameras, and it's true photos taken with an iPhone. As its name implies, Perfectly Clear by Athentech Imaging is an iPhone app that can quickly and easily improve most iPhone photos.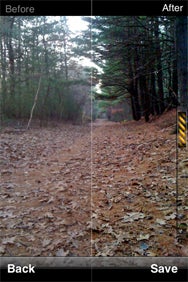 Perfectly Clear works by using proprietary algorithms to analyze your image, and apply basic edits (exposure, sharpness, contrast, and so on) as needed. There are two basic preset options—the standard Default setting and the FixDark setting (which can pull information from overly dark images). Usually, I found the best results from the Default setting. At any time, you can override these presets and manually adjust individual areas such as exposure, tint, or contrast.
By far the most appealing aspect of Perfectly Clear's design is the way it presents edits. When you launch the app, it prompts you to select an image (or take one of your own if you're using the app on an iPhone). Once you've selected an image, it appears on the screen with a dividing line down the middle. The left side shows the Before image; the right side shows After. You can slide the line left and right with your finger to see the results.
It's a fantastic way to see the results in real time. On the far right side of the screen is a small dock that slides out when touched. From here, you can see the Settings (which each have their own slider for adjustment); you can continue to manually adjust them if needed. Once you are happy with the result, you simply hit save, and the image appears in your Camera Roll.
There are a wide variety of photo-editing apps available for the iPhone, and many of them allow for dramatic changes to your images. Given the strength of the editing interface, there is a lot of potential for Perfectly Clear to grow by offering more preset looks and adjustments.
For now, Perfectly Clear is more suited for images that don't require large changes. Rather, it's best for those times you simply want a photo to look as clean and clear as possible. In most cases, a quick run through Perfectly Clear should leave you pleased with the result.
[Macworld contributor Beau Colburn lives in Boston, where he posts some of his favorite iPhone photos at Snap Different.]