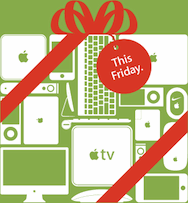 Shoppers, start your engines! Er, well, maybe not just yet.
Apple has issued a teaser announcement for its one-day sale on Black Friday. In case you're utterly retail-phobic or have no familiarity with American capitalist tradition, the Friday after Thanksgiving is traditionally one of the busiest shopping days of the year and an occasion for all kinds of marketing gimmicks by retailers. Apple says that on November 27, its online store will offer a series of discounts on Apple products, though the company has not revealed which items will get deals and what those details will entail.
In past years, the sale prices have been available both online and at Apple retail locations, and they've been extended to desktop Macs, MacBooks, iPods, accessories of all kinds, and some Mac software. But don't get your hopes too high: those past discounts have been relatively moderate, between 5 and 7 percent off.
For now, Apple invites you to browse its normal catalog. But prepare to unleash that credit card in a few days.