I love live music. Well, music in general, but there's something about the anything-can-happen vibe and the interaction with the audience of concerts that's hard to beat.
With six-month-old twins at home, I haven't had much opportunity to get out to shows for a while. But I still get to enjoy concerts at my desk, in my car, or on my iPhone. And I don't mean the edited, polished, compiled 'live albums' that record labels release (although some of those can be pretty awesome, too).
If you crave the sounds of a slightly out-of-tune guitar or the banter between a singer and the woman in the front row yelling out a request for "Free Bird," (or just to hear the show again that left your ears ringing with delight) here are some great places to find free and paid live music.
Free stuff
In the old days, concert goers often taped shows on reel-to-reel machines or cassette tapes. These bootlegs—or, if you prefer, ROIOs (Recordings of Indeterminate Origin)—were often stealthily recorded, of poor sonic quality, included drunken conversations preserved for posterity, and suffered from lots of cuts and tape flips. These days, many bands allow fans to record shows for non-commerical use, and these tapers come equipped with fancy DAT recorders and high-quality mics. The results are some stunning recordings that make you feel like you were standing among thousands of your closest friends, sharing in the groove.
Instead of a taper burning a CD of the concert for some friends, and those friends trading it with others until it finally reaches you, the moden taping scene is about distribution. You can now find lossless FLAC audio files from a show available legally via BitTorrent—often less than 24 hours after a show takes place. For popular bands, there may even be multiple recordings to choose from. Note that iTunes can't import or play FLAC files, but free players such as Cog can, and the free Max and xACT can convert them to MP3, AAC, Apple Lossless, or other formats. And the Sonos and Squeezebox home audio systems can play FLAC files directly (find out more about those systems in our whole-home audio guide).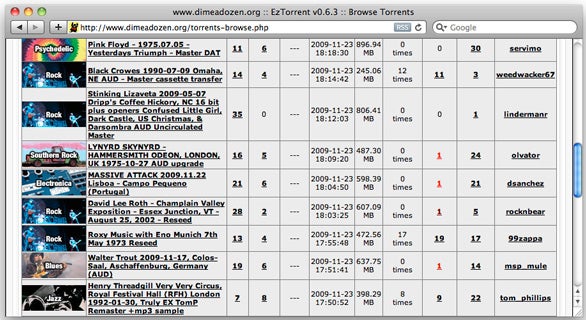 One place to look is bt.etree.org, a BitTorrent tracker hosting concerts from many bands such as Phish, Gov't Mule, Little Feat, Matisyahu, Black Crowes, Los Lobos, and Blues Traveler. The Internet Archive's Live Music Archive also includes direct downloads of MP3 and FLAC-format concerts from hundreds of bands such as Cowboy Junkies, Grateful Dead, moe., My Morning Jacket, Radiators, Steve Kimock, Warren Zevon, and many others you may not have heard of. Both places are very strict about removing any band or venue that doesn't give permission to be there.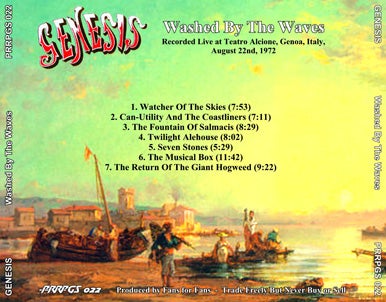 There are also a number of other BitTorrent sites dedicated to live music (both audio and video), most of which require free accounts and a watchful eye on your ratio of bits uploads to bits downloaded. The biggest is perhaps Dime, aka Dimeadozen. There's also Zomb Torrents, The Trader's Den, Lossless Legs, PureLiveGigs and Tapecity Live Music Sharing, just to name a few. There are artist-specific BitTorrents sites such as Genesis-Movement Torrent (Genesis, Phil Collins, Peter Gabriel), Rust Radio (Neil Young), and U2Torrents.com (U2). Most of the sites do a pretty good job of making sure nobody offers up any officially released material, but a "download at your own risk" disclaimer is always warranted.
Pay up
Free audience recordings are a lot of fun, but a high-quality soundboard recording can be ever nicer—and let you hear things that you may have missed in a noisy concert settings.
The Pixies are selling shows from its current tour on Doolittle Live as 392 Kbps MP3 files for $14 a pop (or as collector's edition USB wristbands, if you prefer). Live Phish Downloads sells Phish concerts and albums in MP3 and FLAC formats, typically for $10 and $13, respectively, and has begun selling FLAC-HD (24 bit, 48KHz) versions as well. Metallica sells MP3 and FLAC concerts at those same prices. Dave Matthews Band sells a variety of shows in 128 Kbps and 256 Kbps MP3, as well as FLAC files. Pearl Jam sells some shows as CD and some as 256 Kbps MP3 ($10) or FLAC ($15) downloads. The list goes on.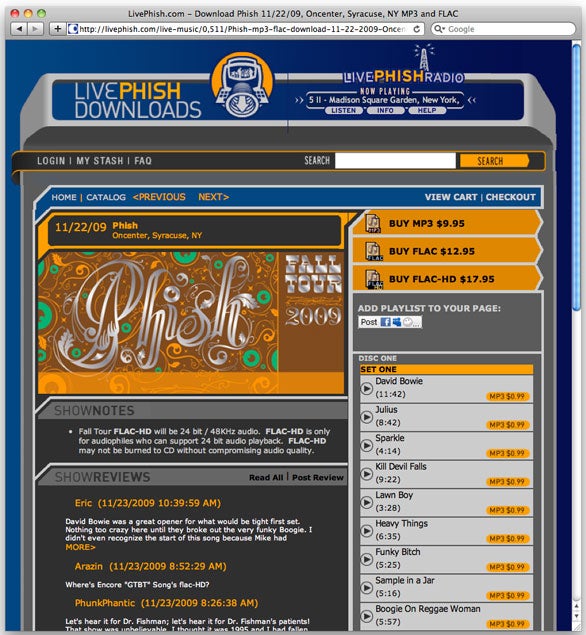 There are also larger sites that sell concerts for multiple bands. Wolfgang's Vault sells live recordings from the Bill Graham (né Wolodia 'Wolfgang' Grajonca) archives as well as streams up to 10 hours of concerts per month for free to your computer or iPhone. The site recently added a membership option as well, which costs $48 a year and includes a $50 credit for purchasing concerts or merchandise (posters, t-shirts, and so on), discounts on additional concert downloads, unlimited streaming, higher quality streams, and more.
Nugs.net—which actually powers the stores of many other bands—sells shows from the Neville Brothers, North Mississippi Allstars, Phil Lesh and Friends, Primus, Sleater-Kinney, Warren Haynes, and Zero. And DigitalSoundboard.net offers Steve Kimock, Karl Denson's Tiny Universe, and Strangefolk, as well as music from several festivals.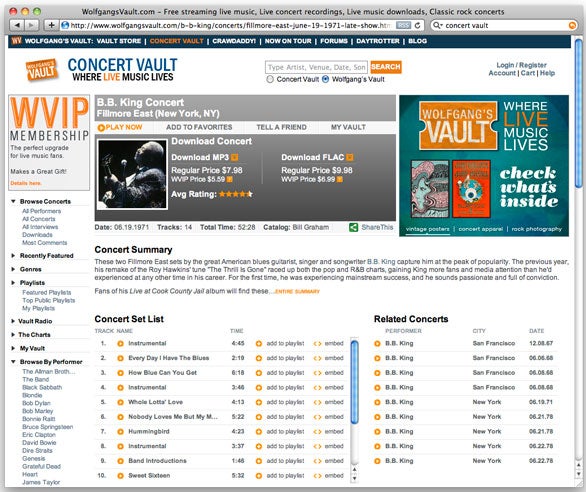 The Allman Brothers Band only sells CDs of its concerts on its Website, but the Munckmusic site offers FLAC and 256 Kbps MP3 downloads for $15, as well as CDs and downloads of other bands such as Bruce Hornsby and Little Feat. (The site tells you that "FLAC files require more bandwidth to download and include a small surcharge" but doesn't mention how much that surcharge is until you go through the entire checkout process).
Just a taste
These are just some of the places to find live music that you can download and own, without the hassles and quality-issues of streaming. What are some of your favorite bands and sites that sell concerts? Let me know—maybe I'll have to give them a try.