Apple's built-in browser might be the most frequently used app on your Mac (yes, even more than the Finder, super Mac geeks). So Apple always adds helpful new features to Safari, its browser. In version 17, available with macOS Sonoma or as a separate download for macOS Ventura and Monterey, Safari helps you be more productive and secure, and it's available for macOS Monterey, Ventura, and the upcoming Sonoma. Let's take a look at the new features.
Web apps
Safari for Mac has finally caught up with iOS and iPadOS, which have had this feature for a while. A web app is basically a website saved as a self-contained app that appears in the Dock. Just click on its icon to launch it. We have a separate guide to web apps in macOS Sonoma that details how to make and manage them.
Profiles
With a profile, you can set up separate browsing sessions based on topics. For example, you can set up a Work profile for all the sites that you use for your job, and you can then set up a separate Personal profile for when you're using the web on your own time. You can get more specific with your profiles if you want, like say, a profile for making travel plans, or another for your hobby. We have a separate guide to profiles in Safari with instructions on how to set them up.
Private Browsing enhancements
When you open a private window (File > New Private Window, or Shift+Command+N), it opens a browser window that does not save the details of your session (such as the history), nor does it share the session with your other Apple devices. This has long been a part of Safari's Private Browsing, but Apple has made a few more enhancements in version 17.
Foundry
Locked Private Browsing: When a private window isn't being used (you step away from your Mac, for example), the window locks, and its contents are hidden. To open the window, the password of the active user account must be entered.
Link tracking protection. Websites often use trackers in links, but now when you use Private Browsing (as well as links shared in Messages and Mail), the trackers are removed.
Advanced tracking and fingerprinting protection. Prevents known trackers from loading on pages and from identifying your device. This setting can be adjusted in Safari > Settings > Advanced, then check the box for "Use advanced tracking and fingerprinting protection." You can always set it to work always or just when using Private Browsing.
Extensions are turned off by default. Browser extensions can be turned on by going to Safari > Settings > Extensions and selecting the extension in the left column. Then in the main section, look for a setting checkbox for Allow in Private Browsing and check the box.
Multitab selection
Multiple tabs can be selected by holding down the Shift key and clicking on each tab. Once you have your tabs selected, Control+click, and a pop-up will appear with options on what you can do.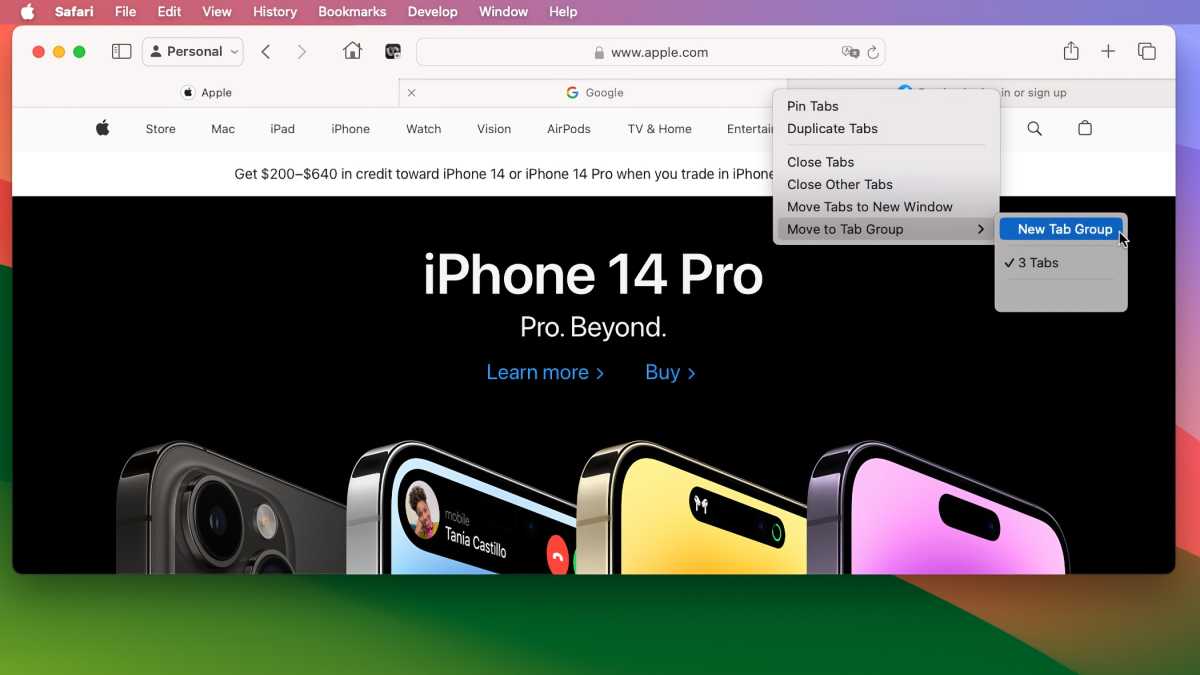 Foundry
Favorites bar favicons
Before version 17, the Favorites bar showed links with just text labels. Now, a favicon is included so you can quickly spot the link.
Foundry
Desktop Reading List widget
One of the key new features of macOS Sonoma is Desktop Widgets. Among the widgets you can use is a Reading List widget, which lets you access your Safari Reading List on the Desktop. Learn how to add widgets to the macOS Sonoma Desktop.
Foundry
Privacy protections for app extensions
Per-site privacy settings are now available for app extensions, in addition to web extensions.
One-time verification code autofill with Apple Mail
When you get a one-time verification code in Apple Mail, Safari can now grab that code for use in the browser.