Twelve South on Monday announced the BassJump, a portable, USB-powered "subwoofer" designed to enhance your MacBook's audio output by adding midrange and bass frequencies that the MacBook's built-in speakers can't adequately produce.
At 5 inches square by 2.2 inches tall, and weighing just 1.4 pounds, the BassJump is small enough to carry in your laptop bag. The speaker's extruded-aluminum enclosure hosts a 3-inch driver that can produce lower frequencies than a MacBook's built-in speakers. The BassJump connects to a USB port on your MacBook for power and audio, and you control the speaker's output via a new BassJump Sound System pane in System Preferences. The software lets you choose the relative volume of the BassJump (compared to your MacBook's own speakers), the crossover frequency (from 100Hz to 300Hz), and one of five different EQ settings.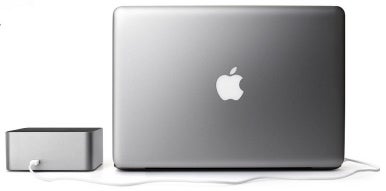 The $80 Bassjump is available now from the online Apple Store, Apple retail stores, and the Twelve South Website. The Bassjump's software requires Mac OS X 10.5.8 or later.