Data Robotics, makers of the popular Drobo ( ) "storage robot," is expanding its product line with two devices, the Drobo S and the Drobo Elite.
The new Drobo S and Drobo Elite models offer more storage, faster performance, and added security to an already impressive line. The new devices also put Drobo in a new market for the company, small business.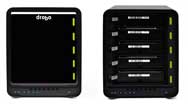 The new Drobo S offers huge capacity and speed upgrades over the current Drobo model. The Drobo S sports an additional drive bay over the current Drobo, offering five drive bays for up to 10TB of storage (using five 2TB drives). Additionally, the Drobo S has eSATA connectivity to supplement the two FireWire 800 ports and a USB 2.0 port.
Data Robotics claims that the Drobo S is 50 percent faster than the current four drive Drobo while offering 90 percent of the performance of the Drobo Pro, the high-end Drobo model launched last April. Data Robotics claims that during tests, the new Drobo S achieved speeds averaging around 80 megabytes per second—blazing speeds if proven accurate.
But perhaps the most impressive new feature of the new Drobo S is its data security features. According to Mark Fuccio, Senior Director of Products and Markets at Data Robotics, the Drobo S offers a "Data scrubbing" feature that enables the drive to read every block of data and repair any data corruption it finds. This self-healing ability will hopefully assuage the fears of IT professionals and small business owners who need to keep their data readable and secure. To that end, the added dual drive redundancy feature of the Drobo S provides even more reliability to the Drobo unit. "If two drives fail, you're still covered," explains Fuccio. You can turn on or off this feature through Drobo Dashboard.
The second new product, the Drobo Elite, offers multi-host support with LUN affinity for consolidating storage across multiple servers. Data Robotics claims the new dual gigabit ethernet ports "offer best-in-class performance." According to Fuccio, it's designed for multiple workstations that are using the Drobo at the same time. The press materials boast it's the "most straightforward iSCSI SAN management ever."
The Drobo Elite has a faster processor than the Drobo Pro and offers an eight drive capacity with single or dual drive redundancy. This means the Drobo Elite can have a storage capacity of up to 16TB. You can create smart volumes that will expand as your storage needs do. According to the press materials, it's possible to have up to 255 smart volumes. When you create a volume with a specific capacity in mind, Fuccio explains that storage is not actually allocated to a volume until it's written to it. Thus, you can get space back if your expectations for how much space you'll be using doesn't meet with reality. According to Fuccio, through the progression of their line, Data Robotics has been "removing limitations of traditional RAID" configurations, effectively empowering users to have more control over their data.
Practically speaking, this means multiple workstations can have ownership over data via the Drobo Elite. If you have five machines in your workplace, you can configure your Drobo Elite to assign a volume for each machine. Each volume will mount locally on their desktop, ensuring individuals have control over their own data while still centrally storing it.
The Drobo S without drives is priced at $799; populated with five 2TB drives, it's $1799. The Drobo Elite in its base configuration will sell for $3499; populated with eight 2TB drives, it's $5899.
Data Robotics' Drobo has proven to be a hit among creative professionals and IT managers. With the company selling over 85,000 units in two years of sales, the consumer base for the product has proven to be robust and diverse.