What could be more all-American than roundhouse kicking Commies to death in the streets of rural Texas? Chuck Norris: Bring on the Pain!, the first official Chuck Norris game, finds Norris brain-damaged and powerless after having reached around the world and accidentally punching himself in the back of the head. Seriously. And, oh yeah, communists are invading America. Your goal is to eradicate the Reds while helping Chuck get his roundhouse kick back.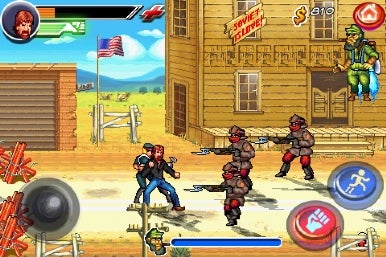 Developed by Ludigames, the controls are intuitive, but difficult to master. You move Chuck either through the touch-screen joystick or by tilting the phone during the driving and flying segments of the game. Operating the joystick does take a bit of practice, however. I often found myself accidentally turning my back to assailants while I was trying to blow them away. It can also be difficult to advance long distances, as the tiny joystick only bends so far before you have to let go and hold it down again to sustain movement. That said, the game is pretty easy to play, even at the higher levels. You don't need to do much strategizing over which weapon to use; in most situations, it's effective to charge into enemies and frantically shoot or punch until they're all dead.
The best part about this game is undeniably the combat. In addition to throwing punches and utilizing Norris' trademark roundhouse kick, you'll find guns to shoot and the occasional heavy object to throw: You're able to pick up trucks, telephone poles, phone booths, and even haystacks to bludgeon your enemies to death. And if you let Chuck stand idle a bit, he does push-ups to pass the time.
The game is more or less an ironic tribute to the modern pop culture myth that is Chuck Norris. The developers even tied in the recent Internet phenomenon of "Chuck Norris Facts," a list of hyperbolic statements about Norris's incredible machismo (example: Chuck Norris is allowed to talk about Fight Club). When you start a level or die, one of these facts flashes across the screen. The graphics are delightfully cartoonish and the sound effects are as cheesy as you'd expect. Chuck Norris: Bring on the Pain! basically feels like something you would have played on your Sega Genesis in 1992. And for added fun, you can take pictures of your friends and superimpose their faces onto the invaders.
Once you get the hang of the controls, Chuck Norris: Bring on the Pain! is not only uncomplicated to play but perfectly ridiculous in its campiness. At $1, the game is cheap, fun, and an extraordinary time-waster. Money well spent for the Chuck Norris enthusiast, or anyone looking for a good laugh.
[Meghann Myers is an editorial intern for Macworld magazine.]