Silent Swords, a cartoon 2-D stealth platform game from Oniric Games, challenges the player to sneak through an underground base while avoiding detection. Instead of depicting ninjas as unstoppable killing machines, Silent Swords features a ninja protagonist who must rely on stealth and strategy to survive the extremely challenging levels.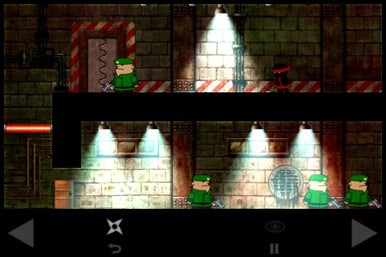 Silent Swords lacks social features, unlockable content (save for more levels), or other trappings commonly associated with high-end games. But don't let the cartoon graphics and lack of features dissuade you: Silent Swords compensates for these shortcomings with a truly challenging set of stealth missions. Ninja games are fairly commonplace, and while the Ninja Gaiden series has gone for stylized combo-driven combat, Silent Swords is more akin to the Tenchu series in its focus on stealth and strategy.
To clear each level, you must guide the ninja through the area without being detected. The ninja can be detected if seen in the light or if he's killed by booby traps. The guards will patrol the area and have set patterns that you need to memorize so that you avoid—and eventually kill—them. You have a variety of tools at your disposal, including the ability to throw shruiken, wall jump, hide behind barrels, and perform assassinations.
After several missions, you'll be introduced to a new skill to master or a new obstacle to avoid. The margin for error is razor thin: even if a guard's back is turned, if he stands in the light he'll detect you sneaking behind him. The booby traps and regular patrols make timing crucial—if you run too fast past a mine, it'll explode; if you wait too long, the guard might see you.
But frustration sets in when you realize that the game is funneling you to use certain strategies at certain times. More often than not, there is only one way to get past the enemy guards and clear the stage. Everything must be done in a specific order, from taking out a guard with a shruiken to rappelling off a wall to traversing a hallway. Deviating from the encouraged strategy makes the mission nearly unbeatable.
The controls also add to the game's considerable difficulty. To move the ninja, you must tap on either the right or left corner of the iPhone. This helps slow down the pace of gameplay but costs the game fluidity. There is no "jump" button either. Instead, you must shake your iPhone—a passable gimmick if you didn't have to jump so often. A simple touchscreen joystick would do wonders to improve the ability for beginning players to pick up the game. But there's a certain charm in how cryptic the controls are because it makes you choose your actions very carefully.
Similarly, the flick-focused assassination controls are unintuitive but compelling. The gestures mimic the slashes of a sword but the icons used to denote the direction the game wants you to flick are hard to decipher.
The recent 1.1 update offers new control options and unlockable extra levels. These enhancements have smoothed out some of the rougher edges of the game without detracting from an overall fun, challenging, and unique experience.
[Chris Holt moves as stealthily as possible when carrying out his assistant editor duties.]