NetNewsWire started life as a Mac app seven years ago, making it one of the oldest RSS readers around. (RSS readers, for those of you woefully out of the Internet loop, are special applications that are specially designed to suck in all your productivity, and the latest stories from Websites you subscribe to.) The application arrived in iPhone form as Apple opened its mobile platform to third-party developers. NewsGator Technologies has since rolled out version 2.0 of its NetNewsWire Premium app (while also maintaining the free version of NetNewsWire). The premium version is a solid improvement, and though there are some flaws, it's a strong feed reading app that feels more at home on the iPhone than the previous iteration.
NetNewsWire—along with all the other newsreaders in the NewsGator family—syncs via Google Reader. That means when you read an article on your iPhone, it's marked as read when you get back to your desktop, and vice-versa. As my colleague Dan Frakes pointed out in his review of the original NetNewsWire for the iPhone, a key difference with the mobile app is that you're forced to sit and wait while your feeds get updated. On the desktop, you can switch away to another window, checking in when all the new headlines have been downloaded. iPhone apps just aren't afforded such a luxury. I tend to launch the app about two minutes before I plan to start perusing my feeds—that's plenty of time for it to sync with Google for the 350 or so feeds I subscribe to.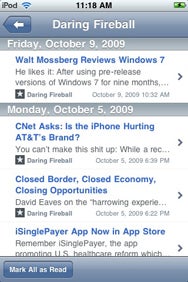 If you group your feeds into folders, the iPhone app will reflect that categorization. You can tap on a group name to see all the new posts from blogs within it, or tap into an individual blog itself. As you scroll through your subscriptions, you'll encounter one constant, somewhat-tolerable quirk: Some blogs will look at first like they have no new updates (with no "unread" badge, and no excerpt of the most recent post), unless you stop scrolling wait a second for the display to catch up. After that quick beat, the unread badge will quickly appear.
Tapping into folders and blogs works quickly, and reading full feeds in NetNewsWire is a snap. Feeds that require you to click through to the Website for the complete article work well, too; the in-app browser supports all of Safari's key features, including offering both landscape and portrait mode.
When you come across an entry that you need to save or share, the app makes that easy. You can e-mail a link, post it to Twitter, or send it to Instapaper. You can mark one or more articles as read with the tap of a button, but the ability to mark unread is MIA (though the developers say they might make it an option in the future). You can also "star" posts that you'd like to revisit; these starred posts sync back to the desktop NetNewsWire client, or to the Google Reader Website.
One odd omission in the current version of NetNewsWire is quick access to removing feeds—either from just the iPhone, or unsubscribing completely. I want to swipe to delete feeds as I navigate my subscriptions list, but that'd doesn't work. Instead, I'm forced to tap on Show/Hide Feeds, which reveals an unwieldy, alphabetized list, where I can then uncheck feeds. That hides them from the iPhone, but there's no way to unsubscribe. It seems like an odd interface choice, and I find it frustrating to scroll through to find all the feeds that don't make sense to carry in my pocket.
NetNewsWire is a good newsreader for the iPhone, and it feels like greatness is within reach. With some display refinements and some ease-of-use improvements, the app could be truly stellar. A free version of the app, with inoffensive ads, encompasses all the same plusses and minuses as the $5 Premium offering.
[ Lex Friedman needs to unsubscribe from a few feeds. Any suggestions?]