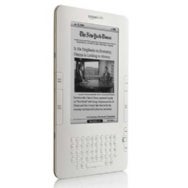 Amazon has an early Thanksgiving gift for all you Kindle 2 owners out there. The company has just announced an upcoming firmware update for its six-inch e-book reader that adds a big new feature: native PDF support.
Previously, if you wanted to read a PDF on your Kindle 2, you had two options: convert it to a Kindle format using Amazon's conversion process or buy a Kindle DX, which has offered native PDF support from the get go. Once you apply the firmware update—which will install wirelessly using Amazon's 3G Whispernet—you'll be able to load up your Kindle 2 with PDFs to your heart's content by either e-mailing PDFs to your Kindle address or by connecting the USB cable to transfer them directly to your Kindle 2.
Amazon also claims that the new firmware update significantly improves the Kindle 2's battery life while the wireless radio is on, by as much as 85 percent. That translates to seven days of readin' goodness with wireless on (up from four days).
The press release also promises native PDF support for the original Kindle as well, awkwardly stated as coming "for some earlier versions of Kindle" (there's only been one previous model).
The one thing the press release didn't say is when the firmware update will be available. A quick survey of Kindle 2-owning editors found no such update when this story was posted.