At a Glance
Expert's Rating
Our Verdict
Web browser aficionados welcomed last week's release of Camino 2.0, a Mac-only browser based on the Firefox codebase. While missing the extensibility of Firefox, Camino is a much more Mac-like browser that some people prefer to Apple's own Safari. Over the past few years, Camino had fallen far behind Safari and Firefox in terms of features; indeed, I switched back to Safari a couple years ago. However, version 2.0, which adds a new Tab Overview feature, along with more phishing and malware protection, improved tabbed browsing, Growl support, better ad blocking, and an updated rendering engine, has some Mac users giving Camino another shot.
If you're a Safari user who wants to try Camino, Camino can automatically import your Safari bookmarks; you can use a tool such as Bookit to keep those bookmarks synchronized between the two browsers. However, Camino can't import Safari's cookies—the tiny bits of data that let Websites remember who you are, when you last visited, and how you prefer to use each site. That's where today's simple Gem, CookieThief, comes in. (Hat tip to the PimpMyCamino Website, where I discovered CookieThief.)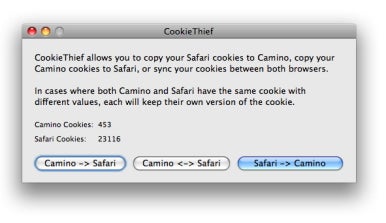 Launch CookieThief, and you're presented with a dialog that tells you how many cookies each browser currently has and provides options for copying Camino's cookies to Safari, copying Safari's cookies to Camino, or copying each browser's cookies to the other. (If you choose the last option and both browsers have the same cookie but with different values, each browser keeps its existing version of that cookie.)
In my case, Camino had only a few hundred cookies, while Safari had over 23,000. I choose to copy Safari's cookies to Camino; the process took under a minute. Afterwards, every site I tested that remembers my identity and settings in Safari (for example, Amazon, Twitter, and our own Macworld forums) instantly recognized me, and my settings, in Camino.
Two features I'd like to see in CookieThief are support for additional browsers (especially Firefox) and the capability to choose which cookies are transferred or synchronized. For now, the program overcomes one of the major inconveniences to giving Camino a try.
Want to stay up to date with the latest Gems? Sign up for the Mac Gems newsletter for a weekly e-mail summary of Gems reviews sent directly to your Inbox.