Arkanoid, the classic arcade game from Taito, finds a welcome home on the iPhone and iPod touch. Arkanoid is a Breakout-style game in which you use your "Vaus" paddle to bounce balls against bricks to eliminate them from the board. The formula is classic: Once you've eliminated all the bricks, you advance to the next level; but if you let the ball get past you, you lose a paddle. There are a variety of floating enemies which clutter the playing field and make it more challenging, and periodically you'll get a chance to collect power-up capsules. These capsules grant you a variety of abilities—from modifying your paddle to changing the behavior of the ball. Arkanoid's space travel story is unveiled to you slowly as your progress through the 100-plus levels.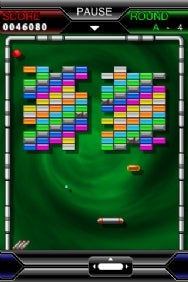 As an old Breakout fan, I'm accustomed to playing these types of games with a paddle controller, but the iPhone control scheme does a pretty good job in its place. To control the paddle, you move your finger to the left and right on the slider at the bottom of the screen. Unlike most virtual control schemes which tend to obscure the action, this control slider sits well below your paddle keeping your fingers out of the way. You can also tap the slider to activate special functions like the laser power-up. It would have been nice to have a tilting control option, but I was surprised by how well the slider works.
The animated backgrounds, beautifully drawn graphics, great sound effects and compelling music create an excellent single-player experience. Arkanoid also boasts a great two-player versus mode that allows head-to-head play on one iPhone. Difficulty levels, built-in help screens, progress save, and the ability to play your own music are some of the other welcome features in Arkanoid.
Fans of the classic arcade game won't be disappointed and I'm sure this latest version of Arkanoid will win many new fans. Taito didn't settle for a rush port and instead delivered a solid experience with loads of features and hours of brick-bashing fun.
[James Savage is the host of the RetroMacCast, a weekly podcast devoted to older Macintosh computers. His favorite "Breakout" game is Super Breakout for the Atari 2600.]