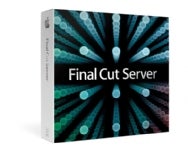 Apple today released an update to its Final Cut Server software.
Version 1.5.1, a revision to Final Cut Server 1.5, addresses general compatibility issues, improves overall stability, and addresses a number of other minor issues. Apple recommends this update for all users of Final Cut Server 1.5.
The new version does the following:
Fixes possible slowdown in the check-in and check-out process to improve the time taken to check in or check out Final Cut projects.
Fixes status display in the Downloads & Uploads window—Category is now set to "[None]" by default rather than "Other" when performing an upload.
Corrects the aspect ratio on thumbnails for anamorphic clips. Thumbnails for clips marked with an anamorphic flag are now displayed correctly and not with a default 4:3 aspect ratio.
Locked assets are now skipped in the archive process, which fixes an issue in which Final Cut Server would freeze when attempting to archive multiple locked files.
Fixes archiving and restore for bundle assets. This corrects an issue that prevented archiving scripts from operating on bundle assets, and corrects an issue in which the filetype extension for non-folder-based bundle assets was lost after restoring from archive. It also ensures that restoring a bundle to a volume that has insufficient space will terminate without leaving a partially copied bundle behind.
Improves reliability of adding and removing archive devices. This corrects an issue with Final Cut Server archiving to an unmounted archive device whereby a local folder was created for the archive. Now the archive process does not complete and gives an alert indicating that the archive device is unmounted.
This release also contains a significant number of smaller fixes aimed at improving overall stability.
For more detailed information about the changes, see the Release Notes available from the application's Help menu.