Spider: The Secret of Bryce Manor had earned lots of acclaim and deservedly so. The developers at Tiger Style Games have created a purely fun iPhone game perfectly suited for the touch interface.
In Spider TSoBM, you play a spider in the abandoned mansion of Bryce Manor. Your job is to search for clues about the family who lived there and why they left. Just tap to the left or right of your spider to move along surfaces. To jump, flick in the direction you want to jump. To survive, you'll need to eat bugs—lots of them. The best way to do this is to catch them in webs you'll spin. Tap to crouch and flick in the direction to create a thread. Once you've enclosed an area with threads, it will fill with an intricate webbing to trap flying insects. Once captured, gobble them up by running over them. Manage your silk carefully or you'll run out. Once you've eaten a minimum amount of bugs in a level, a portal will open and you can advance to the next level.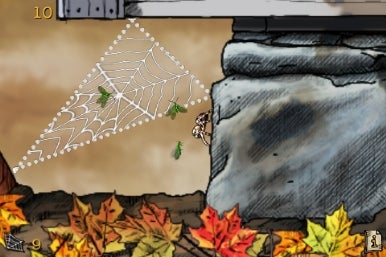 Spider TSoBM makes excellent use of the touch interface. Controlling the spider is easy and intuitive while viewing the large environments is a breeze thanks to an easy-to-use scrolling and zooming control setup. The levels are both interactive and beautiful, creating an inspiring landscape for you to explore and giving you pleny of objects on which to spin your webs. There are a wide variety of tasty bugs each with their own distinctive behavior, and the unique rooms in the house provide constant challenges. Excellent music (or you can play your own) and sound effects combine with top-notch level design to create an immersive experience. There are even additional game modes and achievements to earn to allow for many hours of gameplay.
In an App Store full of games adapted to fit the iPhone, it is wonderful to find a game designed specifically for the iPhone's unique interface. Spider strikes a perfect balance of mystery, strategy, and discovery in a beautifully designed world for you to explore.
[James Savage is the host of the RetroMacCast, a weekly podcast devoted to older Macintosh computers.]