Greed. Backruptcy. The American Dream. Yes, the classic capitalistic board game Monopoly has finally made its way to the iPhone. After EA Games released Monopoly: Here And Now Edition earlier this year, fans were clamoring to see the classic edition's debut on the iPhone and iPod touch. Now all of the iconic pieces, properties, and cards return for this hotly-anticipated game.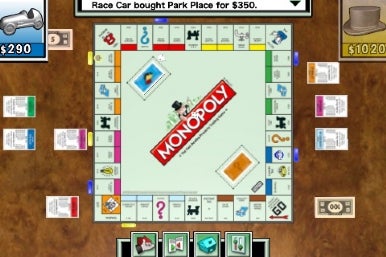 You can play as the dog, thimble, top hat or any of the other familiar tokens. Build a hotel on boardwalk. Buy all the railroads. Form a real-estate empire. All of the classic game elements are here. There's even the ability to create house rules to make Monopoly for the iPhone even more like those home games you used to play as a child. You can enable or disable auctions, choose whether or not you get double the money for landing on Go (as opposed to just passing it) or decide if Free Parking pays out cash. For further customization, you can also choose how much cash you start with, how many (if any) properties you get at the beginning of the game and more. Essentially, you can set up the game to be played however you like.
Once the rules are established you're ready to play. While the action will take place on a 3D board, you can choose the setting for your gameplay from a few different environments such as the kitchen, living room and several others. The graphics are satisfactory, even if there are a few pedestrian visuals here and there. EA did an admirable job to spice up the gameplay, granting each token its own cool animations and sounds when moving around the board. The top hat flips around, the steamboat chugs along and the race car peels out—all with great sounds. Also, whenever you pass Go or collect money, dollar signs shoot into the air. You can choose between three different soundtracks or just play your own music. All the animations and sound effects are fun and really add to the enjoyment of the game.
The interface for Monopoly is both well-designed and easy to use. Along the bottom of the screen are several buttons for rolling the dice, managing properties, ending your turn, trading, and so on. These buttons are really small in order to save screen space but when you hold a finger down and scroll over them each icon enlarges. Releasing your finger when an icon is enlarged will select it. I found this type of menu to be intuitive and reminiscent of the dock in Mac OS.
At the top of the screen is the game log with a record of all the actions and moves so far. Tapping on this small box will cause it to drop down so you can scroll through and read what has happened. When you propose a trade, the trade window opens with everyone's cash and properties. From here, you just tap whatever items you would like put up to trade and the items from the other player you want to trade for and see if they accept. Everything about the interface is efficient, making playing the game fun and easy.
Monopoly has three modes of play to choose from: Single player (with up to three AI opponents), Pass and Play, or local Wi-Fi/Bluetooth multiplayer. In the two multiplayer options, you can have up to four players—either all human, all AI or a mix of the two. The AI opponents are actually challenging; the AI made trade offers, chose properties and bid against me in auctions. If at any time you quit the game or are interrupted, the auto-save feature lets you pick up right where you left off the next time you play. I'd like to see an online multiplayer option with push notification so you could play people from all over, but sadly there's no such option as of yet.
This $5 rendition of Monopoly is a fun trip down memory lane that any fan of the game will appreciate.
[Tim Mercer is a technology enthusiast, graphic designer, and blogger, whose blog, digital-artist-toolbox.com, offers free resources to the digital artist and graphic designer.]
Note: When you purchase something after clicking links in our articles, we may earn a small commission. Read our affiliate link policy for more details.