Editor's Note: The following article is reprinted from Macworld UK. Visit Macworld UK's blog page for the latest Mac news from across the Atlantic.
Amidio has released an app called Touch DJ, which the company claims is the the first full-featured DJ application on the iPhone platform.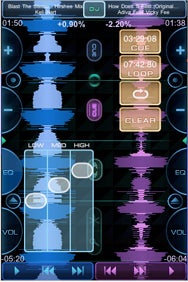 Touch DJ offers real-time independent manipulation of two MP3 files, including scratching, looping, positioning, equalization, effects and and pitching.
What's described as a highly advanced zero-latency sound engine offers results comparable to what can be done with professional hardware equipment, insists Amidio.
The lack of an additional headphone input on the iPhone and iPod touch when mixing means the application uses "visual mixing" to discover which tracks mix well together, with the graphic display of the track waveforms next to each other.
Low-bass (kick) parts are detected and rendered in a different colour compared to the rest of the sonic frequencies, making beatmatching easier, adjusting the tracks position and pitch so that the kick parts become visually matched.
Touch DJ also offers a second "Split" mode of mixing which requires the usage of a special l/r splitting adapter. Among extra features: LP filter FX for each track, vinyl Spin and Break effects, onboard sampler with 3 sample slots, which accepts .WAV files, and the ability to record samples via the microphone.
Touch DJ also comes with 25 dance tracks provided by DanceMusicHub.com to get you started.
Available from the Apple iTunes App Store, Touch DJ costs $20 and requires the iPhone 3.0 Software Update or later.