My Brute is a fighting game with some role-playing game elements like leveling up and constant character improvement. As you level up you acquire new skills and weapons as well as more hit points and other stats. The only problem is that you have no control over any of it. What skills or weapons you get are totally random. In fact, the only thing you actually control is who to fight. Every battle is played out automatically with no controls—you just watch.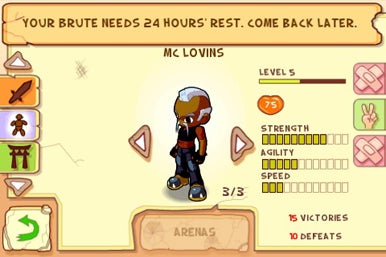 Despite the lack of choice or controls I still found My Brute from Bulkypix to be entertaining. That is, until I found out that you can only fight each of your brutes five times a day. I mean, why pay $4 for a game you can only play minutes a day? Unless you recruit other brutes to become your pupils and unlock extra slots, you can only make three brutes. (You can unlock six more brutes by getting people to join your dojo.) A fight takes less than a minute so maybe 10 minutes into playing, you're cut off for the next twenty-four hours.
If you can deal with having the amount of time you can play rationed out to you, you'll find My Brute does have some nice features. The cartoon graphics look great and the kung-fu style sound effects are a perfect fit. You create your brutes with the ability to customize everything from hair style and color to the clothes they wear. You can challenge friends on Facebook or e-mail them with requests to join your dojo. There's online leader boards and tons of weapons, abilities, and arenas to unlock making you want to keep coming back for more.
Unfortunately, until Bulkypix removes the restriction on how many times a day you can play, there's just no way I can recommend paying for this game.
[Tim Mercer is a technology enthusiast, graphic designer, and blogger, whose blog, digital-artist-toolbox.com, offers free resources to the digital artist and graphic designer.]