onOne Software today announced the immediate availability of Plug-in Suite 5 for Adobe Photoshop. Designed to solve common problems facing photographers relating to color correction, enlarging, masking, and photographic effects, Plug-in Suite 5 combines full versions of six software tools in one package: FocalPoint 2, PhotoTune 3, PhotoFrame 4.5 Professional Edition, PhotoTools 2.5 Professional Edition, Genuine Fractals 6 Professional Edition, and MaskPro 4.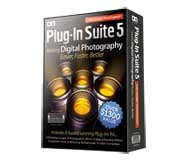 The suite supports Photoshop CS2, CS3, and CS4, and now includes a new onOne Panel which provides quick access to all products, Windows 64-bit support, and the ability to access select plug-ins from within Adobe Photoshop Lightroom 2 and Apple Aperture 2.1. Plug-in Suite 5 is available for electronic download immediately. Boxed copies will be shipping by December 5, the company says. The package costs $600 for new users; for existing users of previous versions, the upgrade price is $200. Customers who own any one or more of the suite's products can upgrade by visiting the company's upgrade link. Purchased separately the products would cost $1,300.
"We are excited to announce…Plug-in Suite 5, our biggest product update and release in over four years," said Craig Keudell, president of onOne Software. "This release is the culmination of working closely with both professional and enthusiast photographers to ensure that Plug-in Suite 5 continues to solve the most common problems they face by providing high quality, easy-to-use products at an incredible value. We are particularly pleased about partnering with NAPP (National Association of Photoshop Professionals) to include content from some of the biggest names in the Photoshop community."
Six programs included
Plug-in Suite 5 includes full versions of the following products:
FocalPoint 2 The new version of FocalPoint gives photographers a way to add realistic depth of field and selective focus control to an image. Photographers now have flexibility and control over the look of the blur with FocalPoint 2's new blur algorithm FocusBrush, Lens Presets from NAPP's Rafael Concepcion, and multiple FocusBug features.
PhotoTune 3 The new version of PhotoTune uses patented eye-fidelity technology, originally developed by and licensed from imsense, to optimize the dynamic range, color, and sharpness of images. An improved wizard offers color and tone correction in as few as two steps while giving pro users access to more advanced controls. SkinTune now offers one-click color correction of portraits and the option to correct just the skin in an image.
PhotoFrame 4.5 Professional Edition This program offers over 100 new professionally designed frames, backgrounds, textures, and layouts, featuring content from NAPP's Cory Barker and photographer Kersti Malvre. With 1,000 design elements like film edges, borders, textures, backgrounds and adornments, PhotoFrame 4.5 Professional Edition also offers complete layouts in which users can simply drop an image and be done. Users can create an authentic darkroom touch with a film edge or create albums or scrapbook pages.
PhotoTools 2.5 Professional Edition PhotoTools 2.5 lets photographers preview and combine Photoshop Actions in a single interface. Designed by photographers, PhotoTools 2.5 Professional now includes a new MaskingBug control based on the FocusBug control from the FocalPoint plug-in. The new MaskingBug allows photographers to create high-quality masks to selectively apply effects to images. There are over 30 new creative effects, including presets from NAPP's Rafael Concepcion, for a total effect library of 280.
Genuine Fractals 6 Professional Edition Genuine Fractals 6 enlarges images up to 1,000 percent while maintaining sharp edges and important image details. Genuine Fractals 6 now includes an automated gallery wrap feature and output options for tiling enlarged photos.
MaskPro 4 This program lets you extract a subject from a photo via a color-based method that allows users to remove unwanted backgrounds. Mask Pro's Color Decontamination technology offers realistic results by maintaining transparency in hard-to-mask objects like hair, smoke, and glass, the company says.