Castle Warriors by GameResort takes the real time strategy genre and streamlines it, making it accessible to more gamers. By simplifying the often complicated elements of the genre, Castle Warrior's simplified gameplay allows you to easily control your armies as you battle for control of castles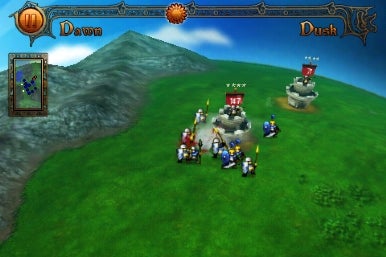 Your objective is to use your warriors to capture all of the castles on the map. Your warriors will battle the enemy automatically—your job is to get them to the battle. Warrior movement is simplified by choosing to move some, half, most, or all of them to the castle of your choosing. The number of reinforcements you receive is based on the number of castles you occupy. Occupied castles will defend themselves when attacked, and castle upgrades are handled automatically. Success or failure will be determined by your ability to move the warriors where they are most needed. Though most of the strategy elements of the game have been simplified for the iPhone platform, the developers may have erred by allowing you to attack any castle on the map from any other—thus eliminating the strategic incentive to position your warriors carefully. There is also no "front line" to speak of.
While it's a breeze to control your troops, Castle Warriors is also a beautifully illustrated and animated game. The battlefield is rendered in 3D with individual warriors coming to life in fine detail. While the battlefield is relatively small, the curvature of the terrain keeps you from having a truly expansive view of the battle. Instead, you'll find a lot of time wasted just scrolling over the surface to get to the castle you desire.
Castle Warriors is an excellent introduction to real-time strategy, but hard-core fans of the genre will be wishing for more depth. While advancing through 12 battlefields provides many hours of play, multiplayer of any form would add much needed depth to the game. Still, if you're looking for a simple, no-nonsense strategy game, Castle Warriors is a solid choice.
[James Savage is the host of the RetroMacCast a weekly podcast devoted to older Macintosh computers.]