Gourmania by Alawar Entertainment is to casual cooking games what the Iron Chef is to gourmet cuisine—a madcap against time that centers vaguely around the preparation of food. Testing players with time management and scavenging ingredients in the world's most-poorly organized kitchens, Gourmania is a challenging and ocassionally fun casual game. You are a chef, and you must work your way toward a great job at a resort. To do so you'll have to earn money at different kinds of eating establishments along the way. At each location, you fulfill customer orders by finding the ingredients scattered throughout the scene and then mixing or cooking them as required. As you tap an item to fill an order, the item disappears. Fortunately, there are multiple instances of the items and eventually, the items are replenished. You must fulfill enough orders in a given time in order to proceed. Completing orders and levels earns you money and money allows you to purchase new locations.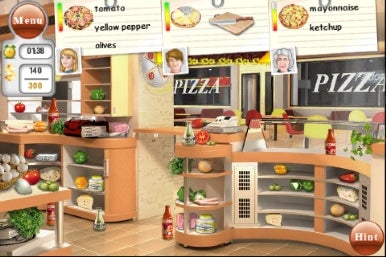 Gameplay is very straightforward, and the various settings and multitude of ingredients are very well illustrated. While you can pinch and zoom to help identify the ingredients, this can become tedious for some of the smaller, less recognizable items. When the number or orders required to pass a level increases, Gourmania can get challenging. You'll have to keep track of where items were stored so you can quickly get them the next time. The orders don't necessarily have to be completed in sequence, and there is no penalty for tapping incorrect items. Other than the varying locales and ingredients, basic gameplay doesn't change and can become repetitive. Also, similar looking items and smaller items can make finding needed ingredients frustrating.
In summary, Gourmania is a fun if unspectacular casual game. The design and graphics are very polished but I was hoping for a little variety in the way of gameplay mechanics. In the end, Gourmania lacks the ingredients for a truly addictive casual game.
[James Savage is the host of the RetroMacCast a weekly podcast devoted to older Macintosh computers. These games about food are making him hungry.]