At a Glance
Expert's Rating
Pros
Large surface
Mouse included
Programmable shortcut keys
Cons
Included utilities and demo programs work in Windows only
No full-version graphics software
Pen requires batteries
Our Verdict
Compared to its better-known competitors from Wacom, Genius' $99 MousePen i608 graphics tablet offers more real estate for less money: Its 8-by-6-inch working area is roughly the same as that offered by Wacom's $199 Bamboo Fun ( ), and much larger than the 5.8-by-3.6-inch surface of the $99 Bamboo Pen and Touch ( ). Overall, though, this tablet doesn't measure up to Wacom's latest offerings.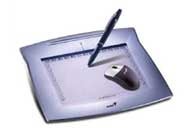 First the good news. The MousePen's pen offers 1,024 levels of pressure sensitivity—the same as most of Wacom's models—and works well in graphics applications such as Photoshop Elements. The tablet's drawing area is surrounded by 29 small shortcut keys that you use to perform actions such as cutting, pasting, and launching applications. You don't get multitouch input like that offered by the Bamboos; like earlier Bamboo models, the MousePen comes with a wireless mouse that uses the tablet as a mousepad. It connects to your Mac via USB.
Despite these attributes, I found this tablet disappointing in multiple respects. Unlike Wacom's pen, its pen requires a battery and doesn't sport on eraser on one end for rubbing out mistakes in your digital art. The pen's buttons are rubbery nubs that are harder to find and press than the ones on Wacom's pen. And the three-button scroll wheel mouse is both undersized and cheap-feeling
The MousePen includes utilities for activities such as inserting handwritten notes in e-mail and word-processing documents, however they are for Windows users only. Driver software is available for the Mac, which lets you customize the tablet's programmable keys. Unlike the Bamboo tablets, it doesn't come with full editions of graphics applications such as Corel Painter or Photoshop Elements, and the demo versions it ships with are only for the Windows platform.
Macworld's buying advice
The MousePen i608 graphics tablet's basic drawing functionality is good enough that it's worth considering if you're on a tight budget, want a spacious work surface, and don't care about a mouse or bundled software. But I think most folks will be happier spending their $99 on the smaller Bamboo Pen and Touch, or splurging on the costlier-but-cooler Bamboo Fun.
[Harry McCracken is the founder and editor of Technologizer .]
[Editor's note: Updated 12/4/09 at 11:40AM to correct for the bundled applications of the Wacom Bamboo tablets.]