Editor's Note: The following article is reprinted from Macworld UK. Visit Macworld UK's blog page for the latest Mac news from across the Atlantic.
NDrive has released two new GPS applications for the iPhone in NDrive New York City and NDrive Los Angeles.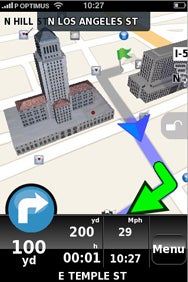 The two apps cost $5 and $4, respectively, a significant saving on many other GPS applications, including those sold by NDrive. The company also announced a Black Friday sale on a range of GPS applications. NDrive UK and Ireland is currently on sale and costs £25 (US$42).
"With the launch of NDrive Cities we aim to deliver a new type of GPS application. Our objective is to provide a higher quality application which has better coverage of busy areas (cities), at an affordable price. In that way NDrive NYC and LA are dynamic products." said Eduardo Carqueja, Founder and Chief of Innovation at NDrive.
The NDrive applications promise turn by turn voice instructions, thousands of points of interest, effective search engine and fast calculations.
All map data is stored on the user's iPhone, while the applications offer gesture recognition for menu, zooming, tilting and panning the map for better display and control of the map.
Earlier this month, NDrive announced the NDrive London navigation application. NDrive London combines NDrive's turn-by-turn GPS technology with aerial photography to create a more realistic experience for the end user.
NDrive partnered with Blom, a Norwegian firm that provides aerial photography, to deliver NDrive London.
The application offers three different routing modes: auto – fastest and shortest – pedestrian and adventure.
Available from the Apple iTunes App Store, NDrive London costs $8 and requires the iPhone 3.0 Software Update or later.
NDrive also offer applications covering dozens of European and global destinations with Spain, Malaysia and Singapore recent additions to the App Store.
NDrive Navigation Systems is a Portuguese company that began developing navigation software in 2005. More recently the company has turned its focus to making GPS programs for mobiles including the iPhone, Symbian, Windows Mobile and Android platforms.