Gomi is a cute and colorful game for iPhone and iPod touch with unique, if tiresome, gameplay. You control the titular character, a Muppet-esque colorful ball (whose look you can customize more the further you progress in the game). His main movement is rolling around the worlds he encounters; you guide him by tilting the iPhone, and tapping on it to jump.
Gomi is a 2D platformer, comparable to the hit iPhone game Rolando, if slightly less cuddly. The world has become overrun with stuff, and Gomi's job is to clean it all up—by eating it. As you roll Gomi around different elements of his world, he gathers the ability to eat larger and larger objects—like cars, trash, and even people—leaving lovely flowers in their place. Gomi rolls around eating mankind's waste, hoping from area to area to accomplish that level's mission.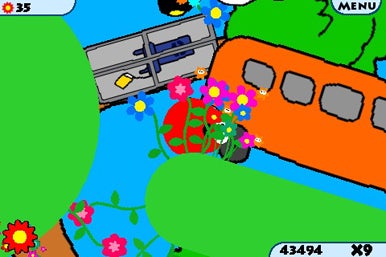 The game includes more than 140 stages, and many levels can be replayed multiple times with different goals, like collecting objects, beating the clock, or setting a new high score. Eight boss levels are more challenging, and completing them unlocks minigames.
Not all of the minigames are winners, but you'll find at least half them as fun as many $1 iPhone games in the App Store, so they add considerable value to an already-deep game.
Developer Kevin Calderone has clearly put oodles of effort into the $3 game. Each level sports a unique, hand-drawn look, and the animation as you roll Gomi around from place to place is mightily impressive. The soundtrack's a bit gratingly repetitive after a short time, but the mute button fixes that pretty quickly. Gomi is an impressive and lengthy—hours long—game, certain to please dedicated iPhone platform gamers.
The free Gomi Lite sports just a fraction of the levels, but works great to help you determine whether Gomi is right for you.
[ Lex Friedman is a frequent Macworld contributor.]