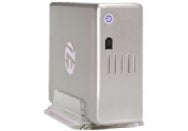 On Tuesday, EZQuest released a 2TB version of its Thunder Pro Quad A/V external hard drive. The drive is also available in 500GB, 1TB, and 1.5TB capacities. (Macworld has reviewed the 1TB Thunder Pro Quad A/V [ ]).
The drive has three different ports: one eSATA port, two FireWire 800 ports, and a USB 2.0 port. You can use a FireWire 400-to-FireWire 800 adapter if you want to connect using your Mac's FireWire 400 port.
EZQuest's targets its Thunder Pro Quad A/V line at video and audio production. Drive come preformatted for the Mac, and are compatible with Time Machine.
The Thunder Pro Quad A/V 2TB is $340. EZQuest offers a three-year warranty and 48-hour turnaround on all repairs covered by the warranty.