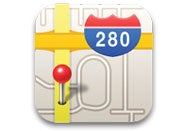 It seems that Apple has big plans for the next iPhone Maps app, or so we might glean from a job posted for an iPhone Software Engineer on Apple's website.
The post describing the job isn't anything special, at first. It lists all the necessary skills you'd come to expect from a software engineer specializing in geo-technology at Apple, along with a description of what Apple's Maps team does.
Then comes the following juicy bit:
The iPhone has revolutionized the mobile industry and has changed people's lives and we want to continue to do so. We want to take Maps to the next level, rethink how users use Maps and change the way people find things. We want to do this in a seamless, highly interactive and enjoyable way. We've only just started.
No other details are provided, but it's pretty clear what Apple's looking for. The current Maps user interface, once unique, has been heavily imitated by its competitors and the app itself is due for an overhaul. Whether this means if Apple will incorporate new features like an augmented-reality interface, built-in GPS navigation, or a new user interface isn't known for sure, but they're reasonable guesses, especially in light of Google's new free Navigation software for the Motorola Droid.
Last summer, Apple acquired Placebase, an online mapping business. Placebase managed to compete with Google Maps by offering rebranding, customizations, and features beyond what the competition could do. They provided a product for large businesses to easily add layered data sets to a Placebase map, called PushPin.
While this led many to speculate that the acquisition was done to wean Apple's iPhone off of Google Maps, Placebase and PushPin also potentially provide a solid foundation for a layered augmented-reality application. No doubt, Apple realizes this as well.
[via Macworld UK]