A number of apps, such as Steve Parker's excellent (and renamed) Business Junkie, aggregate RSS feeds or Web headlines from various sources, including CNN and Yahoo. CNN and Yahoo, of course, produce some original content but also aggregate stories from wire services, including the Associated Press, Reuters, and Bloomberg.
FT Mobile is the London-based Financial Times' application for the iPhone and iPod touch. The app is the only one of this lot that encourages but does not require free registration, but paid subscribers will benefit most from FT Mobile. Without registration, the app gives readers access to a paltry three news stories a month. As casual readers of the Financial Times may know, you can read up to 10 stories on FT.com for free each month with registration. A standard online subscription starts at $18.15 a month, but the $30 monthly premium subscription gives you unlimited access to FT's mobile content, including the paper's long-running and often agenda-setting "Lex" column.
(By comparison, The Wall Street Journal, which offers a respectable iPhone app, charges $12.95 per month for online access at its Website.)
Although paid subscribers stand to gain most from FT Mobile's content, the app has plenty to offer the casual reader. The app's interface is clean and the design is first-rate. FT Mobile looks as sharp and distinctive as the print product, down to the salmon pink background color scheme. Articles are easy to read, and the app makes excellent use of the iPhone's landscape function. Turn your device sideways and articles transition smoothly into a reader mode. You can increase or decrease the article's type size with by squeezing or spreading your fingers. And you can e-mail articles with a couple of taps. Oh, and FT Mobile has a really nice currency converter.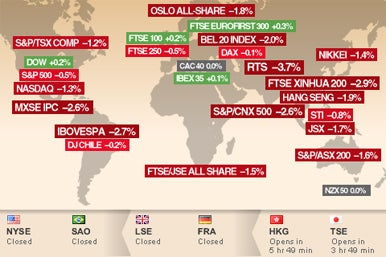 What really makes FT Mobile stand out, however, are the charts and graphs. Here again the app makes terrific use of landscape mode. The app will display summary information about major world markets, from the Nikkei and Hang Seng to the S&P 500, the Dow and the London Stock Exchange. A small note just below each market listing indicates whether a market is closed and when it's scheduled to open. Turn you device sideways, and FT Mobile displays an interactive global map.
The app is similarly clever with company data, breaking out market movers from each major stock exchange, as well as currencies, commodities, and bonds. You can view market data in the aggregate, or search by company name or ticker symbol. The app provides a snapshot of current trading, and a menu bar has tabs for news, estimates, and company profiles. Turn your device sideways, and FT Mobile will launch an interactive chart for the company. You can then tap, drag, or pinch the screen to adjust timeframes, alter the chart displays, add or delete various indicators such as moving averages or relative strengths, and compare the company's performance to any given market over the same time period.
The Financial Times will let non-subscribers keep track of their portfolios, but you need to create the portfolio at FT.com. The app will then import your data. It's a small but noteworthy drawback.
The FT's news, commentary and arts coverage are top-drawer, but it's certainly possible to keep abreast of market news on your iPhone through other sources. CNNMoney's interface might be a letdown after experiencing FT Mobile. But the app is straightforward and fairly utilitarian, although it lacks much of the interactivity of the Financial Times app, especially with the charts and graphs. A rotating ticker at the top of the screen shows the latest stock market gains and losses, and will include quotes from your favorite three companies. Company information tends to be no-nonsense and just the facts, and the charts are clean and simple.
CNNMoney will let you customize the display of news and information. You can add and remove categories, such as real estate, technology, small business, and automotive news, as well as rework the layout of the app's main screen. So if you want news headlines or stock market to appear at the top of CNNMoney's home screen, you simply enter the "add/remove" menu, tap a category and drag it where you want it.
Because this is CNN, the app also offers videos of stories and interviews from the cable news network. The app is also social-network friendly, letting you share stories either by e-mail or on Twitter.
The app has a few downsides. You cannot easily adjust the size of the type, and it won't support landscape view (except for videos). Also, the app requires a Wi-Fi, 3G, or EDGE connection to work.
The Yahoo Finance app from Yahoo is probably the least visually appealing and certainly the least customizable of this group. The app's plain home screen displays major market indices and top financial news stories, which the app updates regularly. You can add and subtract topics or areas of interest. For example, although the app's default setting displays U.S. markets (with the Dow Jones Industrial Average on top), you can also add regional indexes from South America, Asia, Europe and Africa and the Middle East. The app also lets you view market trends, such as leaders and laggards, as well as currency, commodity, and U.S. Treasury rates.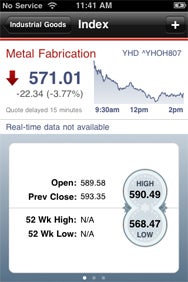 News stories are fairly easy to read, although you cannot adjust the type size and the app inexplicably fails to support landscape viewing for articles. The app has an interesting way of letting you read articles: You can scroll as you normally would, or you can tap a page number at the bottom of the screen and jump ahead.
The most unique feature in Yahoo Finance is its research section. Tap on the Research tab at the top of the home screen and you can browse broad industry categories, commodities, treasuries, and markets. Each section includes extensive listings, breaking out indexes for a wide range of industries, from advertising agencies and wholesale auto parts to metal fabrication and waste management. Although the app won't share real-time data, specialists and chartists may find the graphs useful. You can customize how each industry displays and view interactive charts in landscape mode.
Bottom line: Although the Financial Times app should be rightly regarded as the Rolls Royce of financial news and information, market watchers will find a great deal to recommend in the less ostentatious (read: completely free) CNNMoney and Yahoo Finance offerings.
[Ben Boychuk is a columnist and freelance writer in Rialto, Calif. Feel free to e-mail him.]