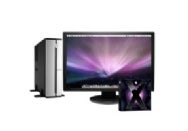 I don't know what kind of beverages they serve at Psystar's Miami headquarters, but I'll take a double helping, thanks. In what can only be termed "extremely optimistic predictions," the Mac clone-maker last year projected it would sell millions of units by 2012.
The numbers come from a presentation given to potential investors in 2008, which was uncovered during the trial's discovery phase; Apple attached it to a motion it filed last week to halt Psystar's sales. The presentation outlined two sets of sales predictions, one "conservative" and the other "aggressive." Or, as I like to call them, "charmingly optimistic" and "laughably deluded."
The conservative numbers had Psystar moving 70,000 machines in 2009, 470,000 in 2010, and 1.45 million in 2011. If that seems kind of unbelievable, consider the aggressive numbers, which had the company selling 130,000 in 2009, 1.87 million in 2010, and 12 million in 2011. As Computerworld's Gregg Keizer points out, Apple sold a record-setting 10.4 million Macs during the 2009 fiscal year, including a quarterly record for the most number of Macs sold in the most recent quarter.
But the real question is how much did Psystar manage to sell during its tenure? An economic consultant hired by Apple, Dr. Matthew Lynde, tracked down just 768 discrete sales of Psystar machines—which just goes to show the importance of trailing zeroes. The clone-maker, for its part, has not disputed those figures.
How did Psystar manage to miscalculate so wildly? Well, part of its failure revolves around the fact that the company has only offered desktop and server products, whereas Apple and other computer vendors have been seeing more growth in the portable arena. However, Psystar also made the mistake of suggesting that its legal dispute with Apple would allow it to protect its business plan by making other vendors wary of jumping into the Mac clone field.
Unfortunately, that didn't actually work at all. In fact, it seems the litigation with Apple may have had the opposite effect, scaring off customers who were worried about what the lawsuit would mean for their products. I mean, who could have seen that coming?
We'll have to wait for the official trial, which begins January 10, to conclude before we declare the moral of the Psystar story, but in the meantime, I'm tentatively suggesting "don't launch a business dependent on costly legal battles fought from shaky ground."