Looking to author your own interactive extras for the iTunes store? Well, à la the App Store, Apple has now opened up iTunes LP and iTunes Extras for independent musicians, bands, and other developers.
Apple introduced iTunes LP and Extras in September, giving listeners and viewers more of the experience they are used to with CDs and DVDs. People who opt for an iTunes LP get their music with all kinds of bells and whistles, including album art and lyrics; with Extras, movies come with DVD-like add ons such as deleted scenes and interviews.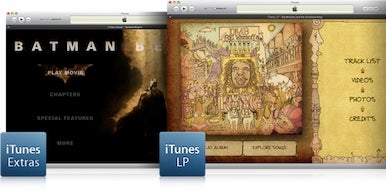 Initially, these interactive goodies were available only on albums and films from the major labels and studios. There were even some unfounded rumors that Apple was charging outrageous LP production fees that would prevent smaller outfits from getting in on the fun. Now the company has made good on its promise and provided access and tools to everyone. In 2010, the developer submission process will be electronic and automated. But for now it remains, as Apple calls, it "manual and limited."
If that doesn't scare you off, you should also be aware that you need an iTunes contract; and as with the App Store, you'll have to endure an approval process. But if you're hardy enough, you can wade through an extensive library of templates, specifications, and best practices. The good news for any competent Web developer is that the user interface and navigation for LP and Extras are based on standard HTML, CSS, and Javascript. Apple has also released TuneKit SDK, which provides a Javascript framework to make the job easier.
Hopefully this new openness will result in more and more content on the iTunes Store including the kinds of goodies we've begun to enjoy with today's limited selection of LP and Extras titles.