DataViz continues to tinker with the iPhone versions of its Documents to Go application, rolling out an update to the mobile productivity suite that enhances the app's PDF viewer.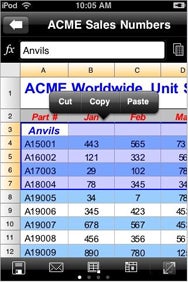 Version 2.1 of Documents to Go is now available for download from the App Store. The enhanced PDF viewer in the updated app adds support for a "Go to" page feature and opening password-protected PDFs. It also remembers that last place you viewed and offers tap zooming. The PDF viewer includes thumbnail, fit to screen, fit to width, and actual size views, while providing a full-screen view with floating navigation controls. In addition, DataViz says the app now opens files more quickly than before.
The 2.1 update to Documents to Go follows on the heels of October's 2.0 release. That update added support for editing Microsoft Excel spreadsheets—a much-requested feature since Documents to Go arrived in the App Store this summer.
DataViz offers two versions of Documents To Go for the iPhone. The $10 Documents to Go lets you edit, create and view Word and Excel files while also viewing Adobe PDF, Microsoft PowerPoint, Apple iWork, and other files. The $15 Documents to Go with Exchange Attachments offers those same features along with a Microsoft Exchange ActiveSync client for sending and receiving Exchange e-mail with attachments. The 2.1 update applies to both versions of Documents to Go for the iPhone.