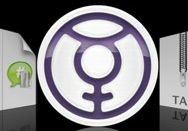 Fans of the launcher-and-do-everything utility Quicksilver have been concerned for a while that it might have transformed into a Norwegian Blue parrot. The primary developer, Nicholas Jitkoff, is now a Google employee and the author of the far less featureful Google Quick Search Box. Although Jitkoff has since released Quicksilver as open source, the fact that he's being paid to work on similar software, combined with widespread Quicksilver problems after the release of Snow Leopard, led many to believe that Quicksilver's days were numbered. (And if they are, there will probably be a trigger to count them.)
A maintenance release on November 6 brought basic compatibility with Mac OS X 10.6, but many plugins remained broken, and the process of getting much of the functionality working wasn't easy. It seemed questionable whether any more upgrades were in the pipeline, so we Quicksilver addicts can be heartened by Monday's release of 1.0 beta 57. (The last official "stable" version was 1.0 beta 54 in December, 2007, and 1.0 beta 57 upgrades from beta 56a7. Obscure versioning being, of course, part of Quicksilver's charm.)
The update doesn't bring new features, but that's not a problem to the Quicksilver community, 95 percent of whom (myself included) can't figure out how to use all of the functionality that's already there. Instead, the change log highlights a dozen things which "don't crash anymore," and several behind-the-scenes tweaks and upgrades. It's not much, but it's reassuring to know that we're in the "I'm not dead yet" routine rather than the parrot sketch.
One oddity: you may have missed this upgrade, as it doesn't seem to have been released through regular channels. I found it on MacUpdate, but there's no mention of it on Blacktree's web site, Wikipedia (that's a first), or in the automatic update mechanism. So either I'm running the latest version of an open-source project, or my MacBook (and around 400,000 other people's) is about to self-destruct in a hotkey-triggered fireball. Readers with more sense than I have may want to wait a while before installing.
Quicksilver is free software; users of older versions of Mac OS X can download relevant versions directly at the Blacktree site. And despite its problems, it still has lovely plumage.