Loren Brichter is a genius. When Brichter, the sole proprietor behind software company Atebits, announced that the sequel to his popular iPhone Twitter client Tweetie would be a new app, and thus a brand new purchase even for those who already owned the original, he had a brilliant solution in mind to the inevitable ensuing pricing controversy.
He simply made Tweetie 2 awesome.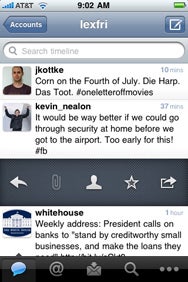 It's tough to complain about spending $3 when, in return, you score an app that's truly a delight to use. When I reviewed the original Tweetie for Macworld, I wrote that "My ideal Twitter client for iPhone doesn't exist yet. Tweetie's close, but I'd love for it to include some of the compose screen enhancements from Twitterrific and Twittelator Pro." Tweetie 2 delivers, keeping and refining what worked in its predecessor, and addressing the areas where competitors previously outshone its functionality—particularly when writing tweets. Even better, the app innovates some smart new functionality sure to be emulated by the best of its App Store peers.
Unchanged in Tweetie 2 is the silky-smooth scrolling through your timeline. I find that apps which hiccup and stutter as you scroll through lists detract from my overall iPhone experience, so I'm a sucker for the ones that deliver the smooth. One clever new nicety is Tweetie 2's approach to refreshing your timeline for the latest tweets: Scroll to the very top of the list, then pull down the top edge for a moment, and new tweets start loading. It's an intuitive gesture, and one I'm guilty of attempting in numerous other apps (Mail, NetNewsWire) that don't support it, only because it feels like a natural iPhone move.
Swiping across tweets in your timeline reveals shortcuts to key actions, like replying, retweeting, favoriting, or saving tweets for later to services like Instapaper or Read It Later. The swipe is another feature that just feels right, and it works to perfection. I love that I can tap directly into other members' favorites from their profiles with Tweetie; iPhone Twitter apps that lack this feature should really get with the program.
Replies, direct messages, and search are all just taps away, as the tabs across the bottom of the screen. You can quickly mark all your direct messages as read by double-tapping on the tab, which is a nice touch. More impressively, Tweetie 2 remembers where you are in the app between launches; when you re-open the app, you're plopped right back where you were before—whether you were composing a tweet, midway through your timeline list, or anywhere else.
Caching all those tweets and remembering just where you were makes Tweetie 2 a genuine standout on the iPhone. The app feels more solid and "desktop-ish," because it feels like it's always ready for you to switch back to, as if it's always running, even though it's obviously not. I long for the day when the Tweetie desktop app can sync with the iPhone version, so I never have to scroll through tweets I've already read again.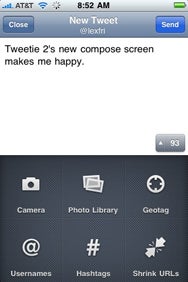 Finally, the process of composing tweets that I referenced earlier gets a welcome makeover in Tweetie 2. Tapping on the character countdown widget reveals six buttons, with quick access to key features. Buttons for the iPhone's camera and your photo album let you drop in photos, which are automatically uploaded to the image service of your choice. You can also choose to geotag your tweets; once you enable geotagging, each new tweet will pass along your current location, until you turn that setting off. Rounding out the helpful compose buttons are an address book for easier mentions (you can type your friends' real names if you can never remember their Twitter monikers), a recent hashtag browser, and a URL shrinker. You can save unfinished tweets as drafts within the app, or export them to Birdhouse. There's now nothing missing from Tweetie 2's compose process.
A recent update to Tweetie 2 added support for Twitter's new retweet flow, and it works just as you'd expect. Also included in the update is impressively robust support for Twitter Lists. You can browse your own lists and create new ones, but you can also tap from a member's profile into lists they follow, lists they created, and lists they're included in.
Tweetie 2, quite simply, includes every last feature a Twitter client needs. It isn't just the best Twitter app for iPhone. It's the best Twitter app on any platform, and truly a pleasure to use.
[ Lex Friedman's Twitter updates will change your life. Or at least, describe his.]