If you use the LittleSnapper desktop application from Realmac Software—and the Ember image hosting service that accompanies it—the iPhone version of LittleSnapper may have some value to you. If you're not already using those tools, you may not get as much value from this app.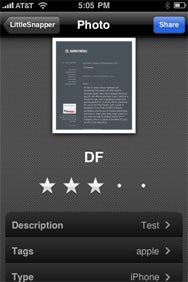 The concept with LittleSnapper—both the desktop and iPhone versions—is to take screenshots and images, add labels and tags, and then store them in one place or upload them to your Ember account. The Ember service has a number of social features: you can follow users, track views, search by tags, and so on. Unfortunately one of the most handy features on the desktop version is missing from that iPhone app—the ability to highlight and annotate sections of a screenshot.
LittleSnapper for the iPhone sports a nice design, and it's simple to use. When you launch the app, you can choose to select a photo from your camera roll, take a picture from within the app (if you're and iPhone user), or take a screenshot. When you choose to take a screenshot, a browser within the app opens, and you can enter the URL you'd like. (Here's a tip though: most often, when I take a screenshot of something it's because I stumbled upon something unexpectedly and I want to highlight it. If this is the case, you're better off taking a screenshot within Safari when this happens, and then opening it from your camera roll in LittleSnapper.)
After you select your photo or screenshot, you can then give it a title and description, rate it, tag it, and upload it to your Ember account. LittleSnapper also links to popular Twitter clients, so after the image is uploaded to Ember, you can send the link to your Twitter app of choice for easy sharing. What you can't do, unfortunately, is add any notes or highlights to the images or screenshots you take. This is one of the features I use most often in the desktop app, and I really miss it on the mobile version.
If you're tied to the Ember service and like to use it as your primary outlet for sharing images, LittleSnapper for the iPhone will be a handy extension of the service for you. If you're just looking to share the occasional screenshot or photo from your iPhone, you'll be better off sticking with a service such as TwitPic or something similar.
[Macworld contributor Beau Colburn lives in Boston and posts iPhone photos on Snap Different.]