When it comes to using your Mac to organize all the stuff you collect and create throughout the day, SOHO Notes from Chronos has been a powerful option for quite some time. The program has gained a myriad of great features over the years, and as of this week, it now fits all your stuff in your pocket. NoteLife, Chronos's new "media-rich note manager" and SOHO Notes companion for iPhone and iPod touch, is now available in the App Store.
NoteLife lets you create and store a variety of notes that contain all kinds of media, from simple text to photos, movies, voice recordings, and bookmarks. You can attach a lot of metadata to each note including tags, geolocation, and comments, and even customize each note's font and color. Notes can be e-mailed, encrypted with a password for safe keeping, and organized into separate folders. You can view notes in a simple list, or switch to Cover Flow or "Page" views for a more visual glance at your stuff.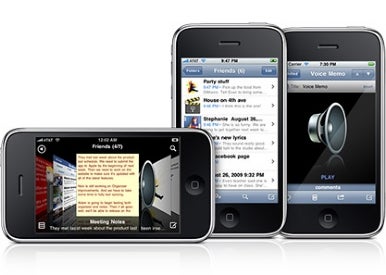 NoteLife looks fine as a stand-alone note manager, but its real appeal should be its integration with SOHO Notes on the Mac. As a big brother to NoteLife, SOHO Notes offers lots of note-taking and media organization features. You can easily save information or entire Web pages from your browser, create rich-text, mixed-media notes, attach files like PDF and ZIP, and even blog your notes to popular services like WordPress, Blogger, TypePad, and others. All the stuff you add to SOHO Notes can be synchronized over Wi-Fi to NoteLife, which means you can bring your stuff (including file attachments) on-the-go and access it offline. Syncing is, unfortunately, limited to the local Wi-Fi network for now, though considering that you can bring along potentially large PDFs, attachments, and audio notes, this may actually be a good idea. You can also edit rich-text items on your iPhone.
While SOHO Notes and NoteLife compete with other capture-everything solutions like Evernote, NoteLife is arguably much more Mac-like, no doubt due to Chronos's history as a Mac-only developer.
NoteLife costs $5 and can be downloaded from the App Store.