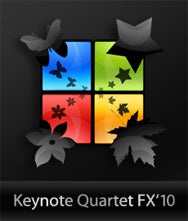 Add-on maker Jumsoft has overhauled its bundle of themes for Apple's Keynote presentation software, unveiling Keynote Quartet FX '10 on Tuesday. The updated collection of slideshow themes includes new versions of Jumsoft's Keynote Themes FX, Keynote Backgrounds FX, Keynote Objects FX, and Keynote Animations FX.
In addition, Jumsoft says that Keynote Quartet includes bonus still themes, images, and photos for Apple's iWork productivity suite. In total, the collection boasts 300 designs, 150 objects, 100 animations, 35 motion backgrounds, and 15 motion themes.
Keynote Quartet FX is compatible with all versions of Keynote, according to Jumsoft. The bundle costs $99. Users of the '09 version can upgrade to Keynote Quartet FX '10 for $45.—Philip Michaels
Pariahware releases Doc Merge 2.1
If you merge lots of Word documents manually, Pariahware's Doc Merge can help: It lets you combine Word docs by dragging them from the Finder into the Doc Merge window; there, you can sort them, insert page breaks, and then open the combined documents in Word.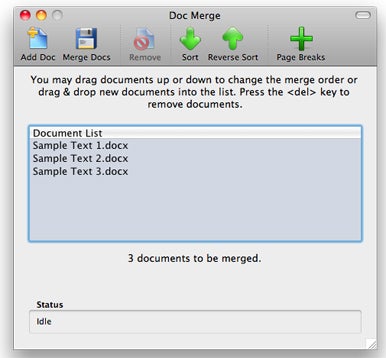 Pariahware (that name is explained here) has just released version 2.1 of DocMerge. It's the first new Mac version of the program since 2005 (Doc Merge 2.0 was Windows-only); the program has also been updated to be compatible with Microsoft Word 2008. It's available in a free trial version (which will merge only two documents at a time); if you want to merge more, the paid version is $35.—Dan Miller
RealBasic, Real Studio 2009 see new release
Real Software makes cross-platform software development tools for everyone from a casual users to professional programmers. The company began shipping RealBasic 2009 Release 5 Tuesday.
According to the company, Release 5 adds 68 improvements and 17 new features to the company's development tools. Among those changes: a new feedback system that allows users to submit bugs and new feature requests more effectively; an updated version of SQLite; and support for the Ubuntu 9.10 Linux distribution. A complete list of the new release's features and fixes is available on the company's downloads page.
RealBasic Personal Edition is geared towards hobbyists and costs $99. RealBasic Professional Edition, which you need if you want to compile Windows and Linux versions of your programs, is priced at $299. Real Studio is $995 and is for full-time software developers.—DM
PopChar X 4.3 adds support for Font Book font collections
Ergonis Software rolled out an update to PopChar X this week introducing a number of changes to its utility for finding and inserting special characters.
Chief among the changes introduced in PopChar X 4.3 is support for font collections defined in Font Book and Mac OS X's font panel. Users can now restrict the font list to ones that contain a special character. In addition, version 4.3 adds support for Unicode 4.3 and improves compatibility with Mac OS X 10.6.
PopChar X runs on OS X 10.4 and later, though Snow Leopard is recommended. Users who bought their PopChar X license within the last two years can upgrade to version 4.3 for free; other existing users can buy a two-year license renewal for €15. A single license costs €30 for new users.—PM