If you share documents across platforms, you have probably experienced some common font issues—fonts that are missing or lines of text that wrap differently from how you intended them.
This problem is not limited to sharing documents with Windows users: It can also happen with documents created on earlier versions of Mac OS X and in Mac OS 9 documents opened in Mac OS X. The solution lies in understanding the source of the problem, and in consciously using fonts that can safely be shared.
If you stick with the fonts in the chart below, your documents should appear as you created them no matter which platform you're using. However, there is one glitch: because Microsoft creates software primarily for word processing and spreadsheets, its programmers assume two things: A font family would have at most four styles: regular, italic, bold, and bold italic; and font developers would include links within the fonts for the four styles.
This made it convenient to place a font-handling requirement into Windows: if a font family has links among its styles, you must access them through buttons or keyboard shortcuts. In other words, if you want to use Arial Bold, you must first apply Arial and then press the Bold button in your application, or use the keyboard shortcut for Bold (in this case, Command-Shift-B or Command-B). In fact, the separate styles do not appear anywhere in the font menus in many Windows applications—that's why they may be listed as "missing" when your Mac document is opened on Windows.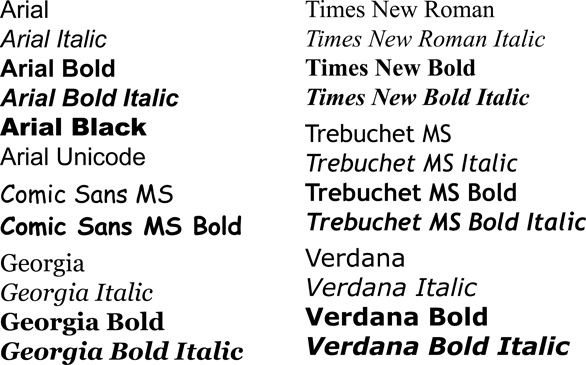 This is vital to remember when creating documents on a Mac. If your application's font menu breaks out Arial into its four styles, and you want to be sure your document retains its formatting on Windows, always choose the base style (Arial) and then apply your Bold or Italic formatting through the application's Style buttons, or by using these keyboard shortcuts:
• Bold: Command-B or Shift-Command-B
• Italic: Command-I or Shift-Command-I
• Bold Italic: Use the Bold shortcut, followed by the Italic shortcut
If you choose your font's style directly from the application's font menu, there is a strong possibility that your Windows-using friends will not see your styles.
Of course, before you embark on this strategy, it's important to find out whether your font actually has a Bold, Italic, or Bold Italic style before applying it. Otherwise your application may get clever and create a fake Bold, Italic, or Bold Italic either by smearing the font sideways, slanting the letters, or both. There are several ways to determine whether a font has multiple styles. Font management utilities will show you the separate font styles, but the easiest way for average users to get that information is to look in the Fonts folders on your Mac. If there are multiple styles for a font, there will be multiple font files with (usually) decipherable names. Your fonts may exist in any of several Fonts folders:
• System/Library/Fonts
• Library/Fonts
• [username]/Library/Fonts
I would start in the Library/Fonts folder, as this is where fonts that are shared among all users on your Mac reside. The User fonts folder (the one with house icon and your name) contains fonts that were installed just for the current user.
Different fonts
If you want to use fonts other than these basic, "safe" cross-platform fonts, you must be sure of two things:
1. Your recipients have installed the same fonts that you're using.
2. Those fonts are exactly the same as yours, right down to their foundries, version numbers, and format (PostScript, TrueType, or OpenType). I recommend only OpenType fonts for cross-platform use, as there are quite a few PostScript and TrueType fonts that have the same name and are from the same foundries, but have slightly different letterspacing between Mac and Windows versions. When you use an OpenType font on Mac or Windows, it's the exact same font file, so there can be no difference.
Mac OS 9 vs. Mac OS X
Ten years into OS X, the intra-Mac problem may come up less and less. But let's face it. Many people are probably still handling documents created before the Mac OS went Unix. If you've opened a document in Mac OS X that was created on a pre-Mac OS X system, and the document uses fonts such as Zapf Dingbats, Helvetica, Helvetica Narrow, Helvetica Neue, Verdana, or several common early fonts from Adobe, your application may complain that they're "missing". In the strictest sense, this is true because these fonts were significantly changed from Mac OS 9 to Mac OS X. (In the case of Zapf Dingbats, when it was converted from PostScript or TrueType to OpenType format, the glyphs had to be completely remapped from their original two-dimensional, 256-character grid to Unicode's multi-dimensional character grid. Therefore, none of the glyphs are in their original locations within the font!)
My suggestion is to bite the bullet (so to speak) and replace the fonts in those documents as you open them. Monotype Sorts is a reasonable replacement for Zapf Dingbats, with many similar glyphs. Arial is a reasonable replacement for the Helveticas. For Verdana and other problem fonts, just replace them with OpenType versions. This takes a bit of work up-front, but will solve the problem for a long time.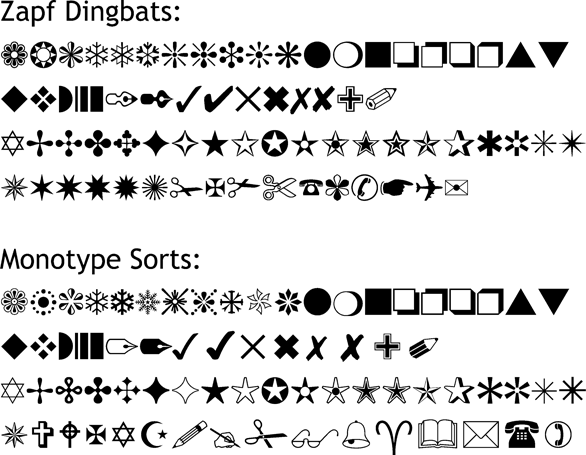 This article is, by necessity, simple and brief. For the full story on these and other font issues, I recommend Take Control of Fonts in Leopard by Sharon Zardetto. This $15 e-book is available from Take Control Books. For definitive answers on how and why fonts work the way they do, I recommend Fonts & Encodings by Yannis Haralambous. Its nearly 1,000 pages are surprisingly enjoyable reading ($60 for the print version; $48 for the e-book) from O'Reilly.
[Jay J. Nelson is the editor and publisher of Design Tools Monthly, an executive summary of graphic design news.]