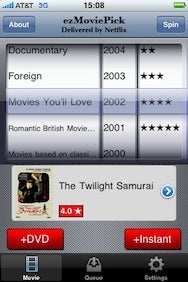 TouchMatter has released ezMoviePick, an iPhone and iPod touch app aimed at Netflix users. Like the popular restaurant app UrbanSpoon, ezMoviePick lets you shake your mobile device to get a recommendation. After a little animation and casino-like noise, the resulting recommendation is based on the movies that Netflix thinks you'll like. You can then add the selection to your DVD, Blu-Ray, or Instant queue. Movies can be deleted or reordered by dragging.
The app relies on one of Netflix's most vaunted aspects—its prediction algorithm. In September, the company awarded a $1 million prize to a team of programmers who improved the accuracy of its movie recommendations by 10 percent.
ezMoviePick adds to the thrill of discovery, but doesn't offer instant gratification. It goes without saying that you can't watch streaming Netflix movies on your iPhone or iPod touch. Once you've added a movie to the queue using the mobile app, you'll need to go back to your desktop or wait for the disc to arrive in the mail.