Those who own Cisco's Flip camcorders know how easy it is to shoot with the diminutive camcorder as well as lightly edit the content you've captured with the FlipShare software found on every Flip camera. Cisco has taken what it believes is the next logical step and created a hardware system that allows you to easily display your Flip videos on an attached television, as well as view the videos of others across the world who've allowed you access to them. That step is the $150 FlipShare TV.
Dongle, remote, and TV base
The FlipShare TV is made up of three components—a very large USB transmitter that you plug into a free USB port on your Mac, a remote control that's nearly the size of a Flip MinoHD camcorder, and a TV base station that's about the size and shape of a tall sandwich. The TV base sports a single HDMI output along with a composite video and RCA audio output. Composite and audio cables are included but not HDMI.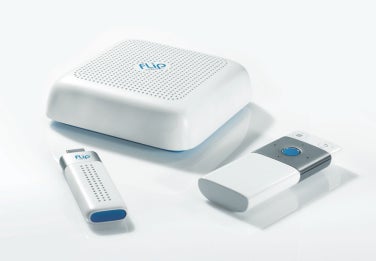 When you plug the dongle into your Mac, the FlipShare installer automatically launches and offers to install the software. Once the software is installed the FlipShare TV will make an appearance within the FlipShare software's Source pane. Its interface should also appear on your TV when you select the appropriate video input on the television.
Within that interface you can choose to view photos you've imported into the FlipShare application, movies you've created with the application, and movies you've designated as favorites; movies stored within FlipShare albums; and channel movies made available to you by other FlipShare users. Regrettably, the FlipShare software is particular about the kind of videos its willing to import (and thus display via the FlipShare TV). You can't, for example, import any old video from your iTunes library. Rather, the software demands that Mac movies must be .mov files at a resolution of either 640 by 480 or 1280 by 720, 30 frames per second, and limited to 70 minutes for 640 by 480 and 30 minutes for 1280 by 720. I attempted to import a few .mp4 videos with no success.
The remote features a simple design with a central blue Select button; an arrow pad for choosing left, up, down, and right; a Menu button for displaying the main menu; and a Back button for moving to the previous screen. So, to play a video in your FlipShare library, just choose Computer from the main menu, press Select, navigate through the albums that contain your videos, press Down to enter an album, and then navigate left or right to choose the video you want to play within that album. When you press Select to play the video, it fills the screen.
The remote easily finds a TV base across a room. The dongle-to-TV base connection can be tenuous across rooms and floors, however. While I had no problem pulling video from my Mac Pro when the TV base was in the same room, when I moved the TV base upstairs and attached it to the TV in my living room I was told that the dongle was out of range.
Sharing
FlipShare is so named because it's always been easy to use it to share your Flip videos. Cisco has simply enhanced it so that you can assign individual channels to groups of people. To do this you click a New Channel button, provide the channel a descriptive name in the resulting Share by Flip Channel window, add the movies you want to share, and then click a Share button. The movies are encoded for playback and then uploaded to the FlipShare Website.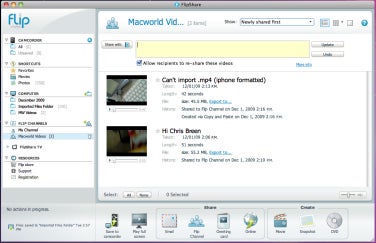 Later, you can add movies simply by dragging them from a FlipShare browser window on to the channel's name in the Source pane. Those who you've designated as recipients receive e-mail messages that contain links to the movies you've shared with them. They needn't sign up for a FlipShare account to view those movies online. When they access your channel either on the FlipShare site or via their own FlipShare TV, they'll see any new videos you've added to the channel.
Quality
Video coming over an HDMI connection looks quite good—dependent, of course, on the quality of the original material. The quality of the composite signal is just about what you'd expect from an analog signal broadcast wirelessly—grainy and soft. While it's possible to use it with a standard definition TV or HDTV that lacks an HDMI port, you'll be far happier with the FlipShare TV when using that HDMI connection.
The need
It's difficult to use the FlipShare TV without pondering its necessity. With video sharing services such as YouTube and the increased ability to view those services on a TV with attached devices such as an Apple TV and other network-enabled media players, who needs a FlipShare TV? If you're asking that question, it's likely you're not the target customer. Comfortable as many people are uploading and sharing movies on YouTube and other video sharing sites, there are a great many more who haven't a clue how to go about it. For them there's this—a product that, like the Flip camcorders, is dead simple to operate and understand.
Look for a full review of the FlipShare TV soon.