If you have an iPhone or iPod touch and enjoy controlling a Mac from afar, you're aware of the many remote control applications available at the App Store. Handy those these applications are, they're absolutely no use for the majority of AV devices—TVs, AV receivers, and DVD and Blu-ray players—that are remotely controlled via infrared (IR). ThinkFlood has just released the $188 RedEye Remote Control System—a Wi-Fi-enabled hardware IR blaster configured and controlled via a free iPhone app—to address this thorny issue. I've had a RedEye for a couple of days and these are my initial observations.
How it works
The RedEye Remote Control System comprises two parts—the hardware and application. The hardware is a transparent blue plastic base station that you power with an included AC adapter. Within the base station are six LEDs arrayed in such a way that they shine from all sides of the base. On top of the base station is a dock connector. You use this dock connector to make the initial connection between the RedEye software on your iPhone or iPod touch and the base station. Later, you're welcome to use it as a charging station for your iPhone or iPod touch.
After downloading the free RedEye software, you plunk your iPhone or iPod touch into the dock connector, and move to the iPhone or iPod touch's Settings screen, where you choose an ad hoc RedEye network that appears within the Wi-Fi Networks screen. Launch the RedEye application and chances are that its software will be updated via the iPhone app. Once that's done, an entry will appear in the app's Rooms screen. Finally, tap the Setup icon at the bottom of the screen, select the room you want to edit (there will only be one at this point), and choose your regular wireless network in the Room Setup screen.
It's within this Room Setup screen that you add devices and activities to the RedEye app. To add a device—TV, AV receiver, or DVD player, for example—tap Add New Device and in the Add A Device screen that appears choose a manufacturer and device type, enter a display name (TV or DVD, for instance), and, if you like, a model name. Tap Save and the application connects to ThinkFlood's servers and attempts to download a configuration file for the device. If no such configuration file exists, you're welcome to teach RedEye its commands by pointing the device's remote at the RedEye base station and capturing its button presses.
Once you've added some devices you can then create activities such as Watch TV or Watch DVD. To do so, tap Add An Activity and in the screen that appears, tap the devices that you'd like to be part of that job. For instance, fo the Watch A DVD activity you'd include your TV, DVD, and AV receiver. Save your activity and it appears on an Activities screen. Tap an activity, all the right gear fires up, and you're presented with a screen that includes such common controls as Play, Pause, Next, Previous, Up, Down, Left, Right, OK, Mute, and Volume Up and Volume Down, as well as a keypad. Tap a button and the base station should fire the correct command to the appropriate device.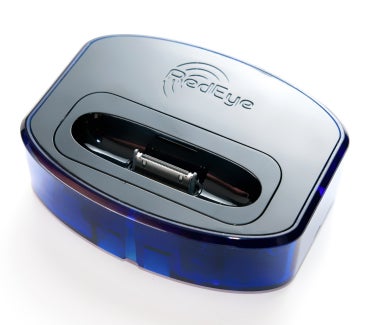 When choosing an activity, do so carefully. I created a Watch TV activity that I hoped would involve my TiVo. Regrettably, the Watch TV template is set up so that controls for changing channels and entering numbers are assigned to the TV rather than the TiVo. I later created a Watch DVR activity instead and the TiVo operated as I'd initially hoped it would.
You can add commands/buttons for specific devices via the Devices area of the Room Setup screen. If the command you're after isn't offered, you can tap a Capture Control Signal, point the device's remote at the RedEye base station, and record the command. After testing that this command works (a Test Control Signal button can also be found on this screen), you can create a button for the command and add it to an activity's virtual remote.
Detail oriented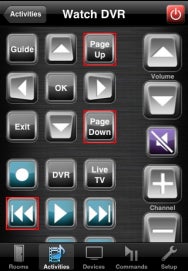 It's possible to get very fiddly with the RedEye. For example, you can configure a button so that it has a single function—enter the number 2, for instance—toggles as you would with an On/Off button, fires a series of steps in a macro (for configuring a button to call up Comedy Central, for example), or repeats a command as long as the button is held. You can also assign gestures to keystrokes—flick up to scroll down a list of programs in a guide, for instance. And you can add actions beyond simple Power On commands to activities. You might, for instance, not only have it turn on your AV receiver, but also have it select particular audio and video outputs as well as switch from 5.1 sound to stereo.
But with this fiddling comes a level of complexity. While it takes very little effort to get the basics right, there will be times when you need to dig deeper to force the remote to do what you want. And this may mean travelling several screens in to do the job. I own a Logitech Harmony remote and there's no question that it's an easier device to configure.
Rough edges
Speaking of hardware remotes, the RedEye has a degree of latency that you don't find with traditional hardware remotes. Where a hardware remote may issue a command now, the RedEye mozies a bit as in…Nnnnnooww. That jump from Wi-Fi to IR simply takes more time. The app can be configured to make a sound, vibrate, or do both when you issue a command. And that's helpful for those times when you're not quite sure your last command took.
I also experienced instances where the network would time out and configuration files took a long time to download. The developer is aware of the issues and an update is expected soon that will deal with some of RedEyes' performance quirks. And that's one of the advantages this (and the Harmony remotes) enjoy. It's programmable so new features can be added and improvements made.
I plan to spend more time with the RedEye in the coming days and issue a review after I've explored further.