Professional photographers with Cadillac-style equipment have long enjoyed the ability to operate a camera by remote control. Such pro-quality remote capabilities allow you to set up a camera on a tripod in one locale and wirelessly operate it from another—sometimes scant feet away, other times a continent's distance. Remotely controlled cameras can be indispensable for nature photography, sports, fashion, as well as many other extreme or unusual angles or shooting situations.
But if you're on a Chevy budget and can't afford a pricey wireless transmitter or an expensive WiFi-equipped digital SLR camera, onOne's $20 DSLR Camera Remote app gives you remote capabilities for some Canon and Nikon DSLR models via your iPhone or iPod touch. Better yet, the camera's live view will transmit to your Apple mobile device, in real time—a through-the-lens look at what you're getting. (Only those Nikons and Canons that have live view will support the app's Live Preview feature.)
But—and this is an important "but"—DSLR Camera Remote is not a truly portable solution, since the camera must be tethered to a laptop, netbook or other kind of Mac or PC. (Unless, of course, your DSLR is Wi-Fi enabled and can connect wirelessly to a nearby computer.)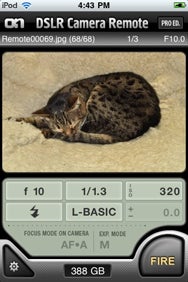 Setting up DSLR Camera Remote is simple and straightforward. After installing the app onto your iPhone, you download onOne's camera server software onto your computer. On startup, you can specify the destination folder where images will be saved, as well as check boxes to Show Log Window and to allow images to be automatically imported into Adobe's Photoshop Lightroom. To get started, open the program, turn on and attach your Nikon or Canon DSLR to a USB port, touch the app icon, and select the appropriate server. That will automatically connect you to your camera.
To test DSLR Camera Remote, we borrowed a Nikon D5000, which costs $850 with an f3.5 18-55mm lens ( Get Best Current Price) and set it to Manual. Depending upon your mode setting—Auto, Aperture or Shutter Priority, Program, Manual, and so on—the corresponding accessible commands will be displayed clearly on your iPhone or iPod touch; all others will be grayed out. However, if you change modes on the D5000, your iPhone won't automatically change as well—you'll have to exit the app and reinitialize before it detects the correct mode. In practice, exiting and reinitializing is a fairly easy workaround that takes only a few seconds. Manual mode allowed us to control a number of the Nikon D5000's settings on the iPhone, including f-stops (on Nikon's 18-55mm zoom, the range is from f5.6 to f36), shutter speed (Bulb to 1/4000th of a second), ISO equivalency (200-3200 or 5 settings of Lo/Hi), image quality (Small JPG Basic on up to RAW+ Large JPG Fine), white balance, and exposure compensation (+/-5 f-stops).
By touching the Options menu, we were also able to setup interval shooting (1 second to 24 hours between shots), auto bracketing (1 to 5 f-stops in full or 1/3 f-stop increments, shutter speeds, or ISO equivalencies), burst mode (1 to 32 shots), as well as toggle Live Preview on or off. But like camera mode, you may have to exit the app and reinitialize to trigger some commands, such as trying to turn on the Intervalometer (time lapse) or Auto Bracket after switching Live Preview off.
On the Nikon D5000, we were unable to control certain functions remotely, because of the nature of the camera itself. We could change modes only on the camera's dial. Because it has a pop-up flash, the flash remained closed, until we pressed the appropriate button on the camera, even when we toggled flash on the phone and the scene required extra illumination. And while autofocus worked well, the D5000's only selective focus on Live Preview is close up, face, and wide. Nor can you adjust the zoom on any lens that doesn't use power-assisted zooming (and reasonably priced DSLR lenses generally don't).
Live Preview provides real-time through-the-lens viewing of what you're shooting. The refresh rate is painfully slow—only 3 or 4 frames per second. As you would expect with inappropriate exposure settings, if the f-stop, shutter speed or ISO equivalency is too high or low, the screen of your mobile device will be too dark or light; you may have to exit and reinitialize after selecting a better exposure setting before the adjustment appears on your screen. Playback displays all your captured images, as well as some metadata (file name, number of shots in the folder, f-stop and shutter speed). While you can pan and zoom the images to see more details, it is limited to a 1:1 magnification, and the tap command to zoom didn't always work for us.
While the full-blown $20 version of the app allows the user to change settings as well as view and take pictures, the $2 DSLR Camera Remote Lite can only display and snap pictures.
Despite some limitations and quirks, using the DSLR Camera Remote with the Nikon D5000 was easy to use and fun. (The App Store listing for both versions of DSLR Camera Remote list the models supported by the app.) More to the point, it's an inexpensive and invaluable tool for serious studio work, or on-location shooting with a laptop or netbook, and any of a number of Nikon or Canon DSLRs.
[Renowned photo gurus Sally Wiener Grotta and Daniel Grotta write and lecture widely about digital photography. Among the many firsts in the industry with which they are credited, they wrote the first story on digital photography to appear in Macworld.]
This article was updated on December 18 to correct a statement on the app's ability to pan and zoom captured images.