iPhone 5 case review: Four kickstand cases for hands-free viewing
Today's Best Tech Deals
Picked by Macworld's Editors
Top Deals On Great Products
Picked by Techconnect's Editors
At a Glance
PureGear Kickstand Case + Holster

Incipio DualPro for iPhone 5

XtremeMac Microshield Stand for iPhone 5

TuneWear Eggshell Pearl for the iPhone 5
When it comes to keeping your iPhone 5 safe from harm, you have many things to consider as you're picking out a protective case. Kickstand cases offer a little something more than just protection, so if you find yourself watching a lot of video or using FaceTime frequently, they are definitely worth checking out. These cases have a small supportive piece that props your iPhone up in either landscape or portrait orientation (and often in both directions).
PureGear Kickstand Case and Holster
PureGear's $30 Kickstand Case and Holster consists of two pieces: a hard-shell case that wraps around your iPhone, and a separate holster that can clip to your belt or handbag. It's made from a lightweight, rubberized material and comes in either black or white (to match your iPhone, of course).
Looking at the hard-shell component as a stand-alone case, it's just fine without the holster. It's lightweight, and all of the iPhone's ports and buttons remain accessible through custom cutouts. Installing the case is easy and straightforward—just snap your iPhone into place—but removing it is a different story. Like most hard-shell cases, the Kickstand Case is meant for long-term use, so taking it off involves some prying. Photos still come out crystal clear with this case in place, since the camera cutout does not interfere with the LED flash for the back camera.
Once your iPhone is in the case itself, you can slide it in and out of the holster at will: Simply push up on the bottom of your iPhone to start sliding it out. The holster holds your iPhone snugly; it's still easy to remove, but there's no way your iPhone will budge unless you apply pressure. PureGear recommends that you place your iPhone into the holster with its display facing inward, so that the soft felt inside keeps your iPhone's touchscreen safe from scratches. However, this position prevents access to the iPhone's touchscreen, buttons, and ports. The holster and case are designed to work with the iPhone facing in or out, so use them as you prefer.
When not in use, the kickstand rests flat against the case. Two finger grips on each side of the kickstand allow you to pinch and pull up to click it into place. The kickstand makes a small triangular shape, and it stays firm once properly set. Your iPhone isn't likely to tip over when resting on the kickstand, and the case will support your iPhone in both landscape and portrait orientation. The portrait angle of the case is optimal for a FaceTime chat.
Overall, the case is lightweight and comfortable to use. The texture of the Kickstand Case allows for a good grip to help prevent drops, and it feels quite protective despite being so light.
Incipio DualPro
If you're looking for a thicker case with a removable kickstand, Incipio's $30 DualPro is a solid option. This case has two separate protective layers: A soft, flexible silicone case wraps around your iPhone, and then a hard shell locks over the soft layer to keep everything in place. The case is available in several different color combinations, including cyan blue on haze gray, charcoal gray on citron yellow, and obsidian black on obsidian black.
Although it leaves all of the iPhone's buttons and ports accessible, the case is a little too thick for my liking, and makes using the buttons difficult at times. The soft silicone piece frames the Home button, and although you can still fully use the button, your finger will be resting on the case itself, which I found to be uncomfortable after a short while. Toggling the Ring/Silent switch is also a little hard—the cutout is small, and the silicone shell gets in the way. My petite fingers struggled with the switch, and I imagine this will be problematic for most iPhone users. The volume buttons are protected with push-through button overlays. The DualPro's edges are raised, which keeps your iPhone's screen safe when you place or drop the handset facedown. The case does not get in the way of the back camera's flash.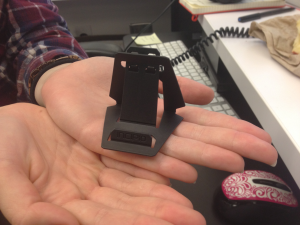 Incipio's kickstand for the DualPro is a separate item that is really just a thin piece of plastic that you fold and clip into place. Incipio doesn't provide instructions on how to set the stand up, and how it works isn't entirely clear: I had to fold it a bunch of different ways until I figured it out. It works for landscape viewing, but not for portrait orientation—the flimsy piece cannot support the top weight of the iPhone 5 when it's upright. I found this kickstand to be clumsy, and because it is a separate piece, it's likely to be forgotten or purposefully left at home. Incipio's iPhone 5 case with a built-in kickstand—the Kicksnap—is probably a better-performing case.
Xtreme Mac Microshield Stand
Xtreme Mac's $28 Microshield Stand is superthin on the sides, but thicker on the back to provide a buffer from drops and bumps. This hard-shell case is light and unobtrusive, and it comes in five colors with a polished finish; you can choose gray, turquoise, red, pink, or pearl.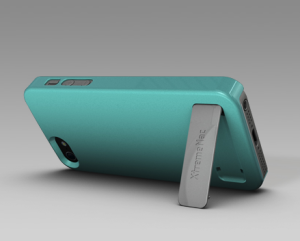 The Microshield Stand has custom cutouts for all of the iPhone 5's buttons and ports, and because of the case's thin design, it should work with most dock-connector accessories. The edges of the case lie flush with the iPhone's touchscreen, which leaves the display in a vulnerable situation in the case of a facedown drop. I enjoyed the lack of bulk that this case provides—it's light, and it feels very comfortable in the hand. Because this is a rigid hard-shell case, it takes some prying to remove.
The kickstand is a thin tab that snaps open on the lower back of the case. At first glance, I didn't think the tab would support the iPhone's weight, but it handled the burden just fine. You can use the kickstand in both landscape and portrait orientation, but the iPhone stays almost entirely upright, so you'll have to scoot the phone away from you to find the most flattering FaceTime angle. You get two options for landscape orientation: one at roughly 45 degrees and the other at approximately 80 degrees (almost entirely upright). Both angles make for comfortable viewing—it just depends on your personal preference.
Apart from the thin kickstand and the lack of edges around the touchscreen, the Microshield is a well-constructed case that complements the iPhone 5's sleek design.
Tunewear Eggshell Pearl
My first impressions of Tunewear's $30 Eggshell Pearl case were not great. The case is constructed from thin polycarbonate that Tunewear describes as "thin as an eggshell." It's as fragile as an eggshell, too: I easily cracked the case with one hand (and I'm not very strong). I put a dent in it when trying to fit it around my iPhone 5. That is not a good sign for a hard-shell case—or any case, for that matter.
True, the reflective silver-colored case did look nice once I had it in place around my black iPhone 5; the other color options are gold, pink, and gunmetal. The edges of the case lie flat with the touchscreen, so the display will take a beating if you drop or place the phone facedown. All of the ports and buttons are accessible through custom cutouts; the iPhone 5's back camera and LED flash work properly.
As with the Incipio DualPro, this case's kickstand is a separate add-on. Called the Ring Strap stand, it's a thin plastic ring that clips onto your iPhone. It's suitable for short-term landscape use, and you can adjust the Ring Strap's location to find your ideal viewing angle. The Ring Strap is ugly, however, and would likely get lost in a purse or backpack. It slides around easily and isn't the most supportive option.
The Eggshell Pearl is poorly made and offers pretty much no protection, so you're better off with any other case—or no case at all.
This story, "iPhone 5 case review: Four kickstand cases for hands-free viewing" was originally published by TechHive.
At a Glance
PureGear Kickstand Case + Holster

Incipio DualPro for iPhone 5

XtremeMac Microshield Stand for iPhone 5

TuneWear Eggshell Pearl for the iPhone 5
Shop Tech Products at Amazon