Editor's Note: The following article is reprinted from the Game On blog at PCWorld.com.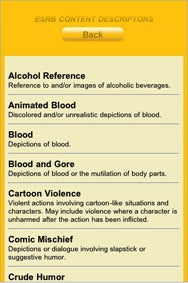 Listen up Moms and Dads, the Entertainment Software Rating Board (ESRB) is giving away a handy new iPhone tool that'll help you quick-check what's what when it comes to game content. Not that the little black-and-white rectangles voluntarily stamped on game jackets are tricky to understand at a glance, but the ESRB Rating Search App is more than just a reference tool for the industry-representin' ESRB's alpha-numeric rating schema: It'll let you quick-check the ratings summary of any game you're thinking of buying, too.
In all, the ESRB has reportedly rated around 18,000 games to date. Those ratings in their simplest format get slapped on the front and back of game boxes, be they PC, console, or handheld related. After the general age category, e.g. Teen, Mature, Adult Only, etc. there's a subset of basic themes, e.g. "blood and gore," "intense violence," "nudity," and so on.
Of course what counts as gratuitous mayhem or salaciousness for one may be ironic reflection or wit for another. Simplistic tags tend to do more harm than good if it's context you're after. To that end, the ESRB offers rating summaries on its Web page. Check out this bit from the rating summary for Grand Theft Auto: Episodes From Liberty City:
During the course of the game, players can encounter some sexually suggestive material: strip clubs with lap dancers wearing "pasties"; sex shops that contain phallic toys; and suggestive TV ads that parody video games, anime, and reality TV shows. During a cutscene in The Lost and Damned, the central character encounters a man just after he has received a full-body massage; as their conversation ends, there is a brief depiction of full-frontal nudity. Players are able to pick up prostitutes for certain "services" (e.g., masturbation, fellatio, intercourse) during the game: the sexual acts are not graphically depicted—they occur off-camera with characters fully clothed. The most pertinent instances of sexual content occur in the episode The Ballad of Gay Tony. While there is no nudity depicted during these brief sequences, the sexual acts are strongly implied: the central character grinds against a woman's posterior (four-to-five seconds) while the two are fully clothed; a female character performs fellatio on the central character as he sits on a chair—the camera fixes on the woman's bobbing head from behind.
That's one paragraph of four detailing the kinds of things only vaguely referenced in the descriptor tags. The summaries aren't reviews of the game—no critical or ethical assessments are made—but there's an attempt to define what, in this case for instance, a tag like "strong sexual content" means.
The iPhone app offers instant access to all of these ratings summaries, which means that if you're out shopping for a game and not sure what's meant by the tag "crude humor" ("depictions or dialogue involving vulgar antics, including 'bathroom' humor") or another like "lyrics" ("mild references to profanity, sexuality, violence, alcohol or drug use in music") you can drill on specific games and get a description of what that means in detail. In the store, and on the spot.
Not all the games have ratings summaries. According to the ESRB, the ratings summaries are in place for games released from July 1, 2008 forward, so recent titles like Modern Warfare 2 and The Beatles: Rock Band do, but not slightly older ones like Halo 3 or Resistance: Fall of Man. Grand Theft Auto: Episodes From Liberty City does, but Grand Theft Auto IV itself (necessary to play the former) doesn't. Bear that in mind.
The ratings application is free, and available now through Apple's iPhone app store.