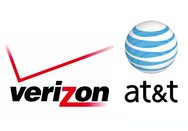 As much as we love watching Verizon and AT&T trade barbs far less witty than those of your average third-graders, we're happy to hear that the two companies have apparently set aside their differences and—more importantly—their lawsuits. I mean, it is the holiday season.
Reuters on Wednesday reported the cessation of hostilities between the two wireless providers, which kicked off earlier this year when Verizon launched a series of ads deriding AT&T's poor 3G coverage. In response, AT&T opted to take the litigious road to Verizon's low road, asking a federal judge to stop the ads, which it called misleading, from airing; that request was ultimately denied. The suit AT&T filed also sought damages and a preliminary hearing was set for December 16.
Verizon decided to smirk through AT&T's legal action, filing a legal response which, we kid you not, contained the phrase "the truth hurts" and essentially accused AT&T of being a crybaby. Meanwhile, AT&T also decided to take the parallel path of launching its own rebuttal ads featuring actor Luke Wilson, once again reinforcing the old adage that an ad for ad makes us all sigh and change the channel.
I think we can all be glad that the Great Verizon-AT&T Skirmish of 2009 has drawn to a close. After all: what kind of message were they sending the children of our nation? Really, I think we want kids today to aspire to greater levels of witticism than "nuh uh, your cell phone service is worse."