Microsoft is taking aim at one of Google's most popular services, Google Maps, with a richer version of its own online mapping service that was released in beta on Wednesday.
The new Bing Maps uses Microsoft's Silverlight multimedia technology to provide a smoother way to zoom in and out of cityscapes that appear as 3D-like images. The beta service also includes Microsoft's answer to Google Street View, which it calls Streetside.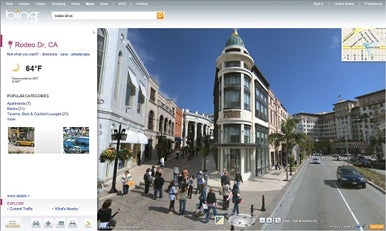 Bing Maps is also getting an Application Gallery for layering data on top of maps. One of the first is a Twitter application that uses the geolocation data recently added to Twitter, so that tweets can be displayed over a map in the locations they were sent from. That might help people get real-time updates on a local news event, for instance.
Another application, Local Lens, indexes local blogs using clues from what is written in the posts, and tries to layer them over the map in the appropriate location as well. Most of the applications today are from Microsoft, but it wants third-party developers to create more.
They are a few of the enhancements to Bing that Microsoft unveiled to reporters in San Francisco on Wednesday. Others included updates to its core search service, such as "task pages" that list information designed to help people complete what they set out to do with their Bing search.
The updates continue Microsoft's efforts to attract more users to Bing, which it launched in June and has been marketing heavily ever since. Microsoft has increased its share of the search market from 8 percent to 9.9 percent since Bing's launch, according to figures from ComScore.
The results are encouraging for Microsoft but it still has a lot of work to do, said Satya Nadella, the senior vice president for Microsoft's online services division. Google retains a commanding lead, with 65 percent of the search market, while Yahoo's share has declined slightly to 18 percent.
"There's no confusion where we still stand," Nadella said. "We have a long road ahead."
The Bing Maps beta requires users to download Microsoft's free Silverlight plug-in. The existing version, which uses AJAX (asynchronous Javascript and XML), is still available, but Microsoft will focus its efforts on the Silverlight version moving forward, Nadella said.
Microsoft is betting that people want help completing tasks, like buying a concert ticket or checking the status of a flight, rather than just being presented with links to information, he said. It's a direction Google and Yahoo have been taking as well.
People are using search engines for increasingly complex tasks, Nadella said. Search queries nowadays tend to involve three words rather than two, and more than half of search sessions last longer than 30 minutes, he said.
"That's the most interesting insight we've been digging into over the last couple of years, and it led to the feature innovations in Bing," he said.
Task pages, and a related feature called entity cards, are examples of this. They have been part of Bing for a little while already, but are being expanded.
Entity cards exist for places, people and things. When a user searches for Miami, for example, the entity card at the top of the results page groups together information such as a slide show of the city, a weather report and a link to the city's official Web site.
Below that are links to the task pages, which show information about local events and neighborhoods. Bing will generate task pages specific to each city, according to Nadella, so a search for Atlanta will include a task page for checking flight times, because Atlanta is a major airline hub.
Microsoft is creating more entity cards for brands and large stores, which will display things such as customer service phone numbers. It is also making one for each of the top U.S. universities, to show data about tuition fees and admissions.
The entity cards rely on some human editing at Microsoft, which will affect how far and how quickly it can scale them.
Microsoft is also developing a tool that pulls in data from a person's Facebook account, allowing them to view their friends as a page of images within Bing, with status updates and information about upcoming birthdays and the like. There's a similar tool in the works for tracking Twitter users.
The update to Bing Maps service was probably the most significant development, however. Microsoft has loaded a whopping 300 terabytes of images and other data into the maps application in just the past few months, according to Blaise Aguera y Arcas, a Microsoft partner architect.
Those who download Silverlight can zoom in from a satellite view to a city-level view and finally to Streetside in a way that looks much smoother than in the previous Bing Maps. It uses Microsoft's Photosynth software, which stitches photographs together to create a fairly realistic 3D landscape.
Streetside covers the largest 100 or so cities in the U.S. today, so Microsoft has some work to do catching up with Google Street View, which is already available for many of the largest cities worldwide.
Microsoft says it has 83.3 million unique users for Bing, up 16 percent from when it launched five months ago. The fastest-growing demographic for Microsoft is younger people, aged 18-34, who tend to do the most searching.
"We have definitely been able to get connected with a new kind of user that traditionally was not using us," Nadella said.
He was asked to comment on reports that Microsoft has been trying to reach a deal that involves paying for exclusive content from News Corp., as a way of competing with Google.
He wouldn't rule that out as a possibility, but said Microsoft is more focused on the quality of its search results. "I'm not going to speculate on any speculation," Nadella said.
Updated on December 3 to include more information about the changes to Bing.