Your time is precious. My time is expensive. Effective time management isn't just a virtue. For many professionals, it's a necessity. Several months ago, I reviewed five timekeeping apps for the iPhone and iPod touch, including Time Manager Pro, TimeLogger, Timewerks, Time Tracker, and TimeXchange. Here are three more apps that users might consider to help keep track of the day's fleeting minutes.
The three apps I've tested for this article have several traits in common. All three have "Clock" in their names and have serviceable—if well short of beautiful—interfaces. All three are task timers, but, with the exception of Impresario Digital's On The Clock, would not be properly classified as timesheet applications.
Simplicity is a common theme. All three apps are comparatively simple tools and can help independent contractors record and maintain records of billable hours of multiple projects for different clients. There are more sophisticated (and expensive) pieces of software for creating and exporting invoices, but On The Clock will do the job.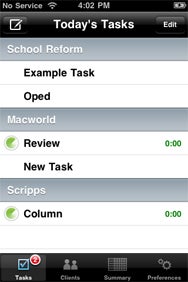 On the Clock is made with the independent professional foremost in mind. Developer Glenn Barnett says he wrote the app to the specifications of a lawyer friend. Setting up entries for clients and tasks is simple. When the app launches, you're automatically taken to the Task screen. It would be better for the app to open with the Client screen, since chances are you're assigning tasks to specific jobs. But you can also create tasks under a "new client" heading.
To add a task, you tap the Edit button in the upper-right corner, and then tap the plus sign under your client's name. If you have no clients, then you'll want to tap the button at the bottom of the screen. From there, again you would tap the Edit button, followed by the plus sign next to "Add new client." You can set up clients by name, billing code, and customize billing times in increments of one-, six-, 15- or 30-minutes.
Once you've configured your clients and jobs, tracking time on task is easy. On the Clock lets you start and stop task timing with a single touch. The app will also let you run multiple tasks concurrently. You can review your tasks in a fairly easy-to-read summary view (best read in landscape mode), which breaks down jobs by date and duration. You can also manually edit jobs.
On the Clock won't generate invoices, but it gives you the means of doing so in another application. Exporting timesheets from On the Clock is not complicated. You can e-mail yourself a text or comma-separated value (CSV) file, which you can then open and edit in Microsoft Excel.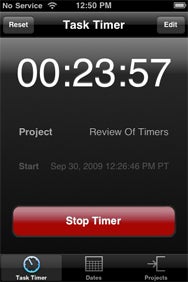 Kyoobed's ClockedIn is a more straightforward and intuitive task timer. It isn't as feature-filled as On the Clock, but it boasts a few features that busy people, not just professionals, will appreciate. The app, which has seen some modest improvements since our original review of the app, is a great time management tool for people who need to work on their time management skills.
ClockedIn doesn't require you to input specific project information, although you certainly can do that. At its simplest, you can tap the large green Start Timer button at the bottom of the app's main screen when you begin a task and press the large red Stop Timer button when you finish. To add details, you tap the Edit button at the top right of the home screen. A new window will pop up, where you can enter a project name, edit start and end times, and add notes. There is no specific field for clients.
The app lets you review your projects by day, week and month. You can color code your activities, which, depending on how diligent you are, lets you see a detailed breakdown of how you spend your time on task. You could, for example, assign specific codes to meals, breaks and leisure activities as well as work duties. (A few years ago, a few of my newspaper colleagues and I went through a time management seminar in which we were required to maintain an extremely detailed time log. I could have used ClockedIn.)
In yet another case of apps with similarly sounding names and wildly disparate quality, I spent a great deal of time working with Return7's ClockIn app before discovering that I had, in fact, been assigned ClockedIn. This is not a case of six-of-one, half-a-dozen-of-the-other. ClockIn is not nearly as intuitive a time-keeping application as ClockedIn or On The Clock. Although it is designed with professionals in mind, it's probably most useful to independent contractors who have a fairly small pool of clients and jobs with a consistent rate scale.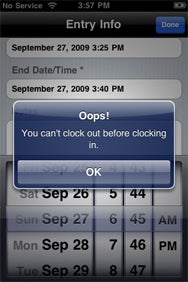 I found it more challenging to keep track of my tasks or edit jobs in ClockIn than with the other two apps. You can add more client information in ClockIn than with ClockedIn or On the Clock. There are fields for a phone number and Website, although there seems to be no direct way to use the information. You cannot dial from the app or tap on the Web address to launch Safari, for example.
ClockIn will list your jobs chronologically for a particular month and display a running total at the bottom of the app's home screen. To start the clock, simply tap a job, tap the large Clock In button at the bottom of the screen, and away you go. When you're finished, tap the Clock Out button.
A quirk of the app—I might consider it a downside—is you don't enter client or task data until you stop the clock. Wouldn't it make more sense to have that information set up before you start? And it's difficult to edit start and stop times in ClockIn. I found that if I needed to change a date or time on a particular job, I would receive an error chiding me for trying to clock out before I clocked in.
Well, as I say, my time is limited and expensive. And yours is, too. Bottom line: Your time is probably too limited to be fooling around with ClockIn. Pros should give On The Clock a look, and anyone who needs a simple, user-friendly task timer would do well to check out ClockedIn.
[Ben Boychuk is a columnist and freelance writer in Rialto, Calif. Feel free to e-mail him.]