The casual consumer may be forgiven for browsing Apple's App Store in a near constant state of bewilderment. With more than 100,000 applications for sale, many of which perform similar (at times identical) functions, it's inevitable that some apps are going to have confusingly similar names.
If the casual consumer may be forgiven, where does that leave the professional reviewer?
Not long ago, I reviewed and praised an application from SoGeeky called FlickTunes. The premise of that app is fairly straightforward: You can control iTunes on your iPhone or iPod touch with a simple tap of the finger and flick of the wrist without ever taking your eyes off the task in front of you. Theoretically, you could even operate the app blindfolded (although I don't recommend it—especially if you happen to be driving a car or operating heavy machinery).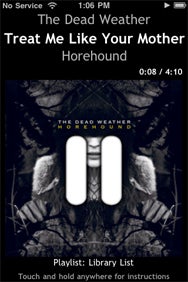 Quokka Studios' FluxTunes shares exactly the same premise and a name remarkably similar to FlickTunes. Even the two apps' product information pages on iTunes are remarkably similar. Here's FluxTunes:
Ever tried to use your iPhone/iPod touch to play music while you're driving? How about when you're jogging and have your iPhone/iPod touch attached to your arm or hip? There are times when it just isn't convenient (or safe!) to have to look at the screen while you use small touchscreen controls to control music playback.
And here's FlickTunes:
FlickTunes lets you keep your eyes on the road & control your music by touch! It provides you with a bold, clean, yet uncluttered, interface combined with intuitive touch and gesture-based controls. FlickTunes is simply the safest and most effective way to control your music on the go. You won't ever need to take your eyes off the road again.
I'd give FlickTunes the edge on writing style, but the point is, both apps essentially perform the same function. I have no idea which application appeared on iTunes first, whether one developer intended to copy the other, or whether both apps were built more or less simultaneously.
Both apps essentially work the same, and the controls are almost identical.
As with FlickTunes, once the music starts, FluxTunes makes use of your handheld's whole touchscreen and doesn't require you to look at it even once. You flick (because flux really doesn't work as a verb here) right to left, as you would turn a page, to skip a song. You flick right to go back. Flicking up or down will play or pause a song. You can also change the app's settings to play and pause with a simple tap of the screen. A two-finger flick to the left or the right will advance a track 30 seconds or reverse a track by 10 seconds. And a two-finger swipe up or down will raise or lower your device's volume.
Here again, the controls take some getting used to. I found FluxTunes to be more sensitive to taps than FlickTunes. A stray, light tap of the screen will pause a track, and a vigorous brush of the finger from right to left might jump two tracks forward, rather than one. The difference, however, is FluxTunes gives you some ability to adjust the control functions. You can, for example, set whether two-finger controls are allowed or ignored. FluxTunes also lets you adjust volume control sensitivity, which remains a vexing problem with the other app.
FluxTunes' settings are more sophisticated than those of its rival and the app's interface is much easier to navigate. You can adjust the app's dimmer and idle time, switch the default screen orientation from portrait to landscape, allow the app's playlist to load podcasts and audiobooks, adjust the number of seconds you can skip forward and backward, and reverse the controls from left/right to right/left. FlickTunes has some of those options, including a useful "lefty mode," but not all. But unlike FlickTunes, you don't need to exit the app to adjust your setting preferences.
Turns out, then, users will encounter some differences between these two apps. FluxTunes is a fine utility to control your music with minimal effort and superior preference controls.
[Ben Boychuk is a columnist and freelance writer in Rialto, Calif. Feel free to e-mail him.]