At a Glance
Expert's Rating
Cons
Annoying front flap
Clumsy remote control
Our Verdict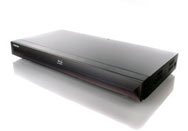 At first glance, Toshiba's slim BDX2000 (the company's first Blu-ray Disc player) seems unexceptional, with limited extras and a boxy remote. But when you pop a Blu-ray disc into it and see what the BDX2000 can do, you'll realize what a bargain it is.
The BDX2000's image quality was fantastic in five of the six Blu-ray titles we tried on it. In chapter 1 of Cars, the color red popped out without looking garish. In a low-contrast, day-for-night scene from The Searchers (chapter 20), John Wayne's suspenders stood out from his shirt with an almost three-dimensional look. And the opening of Good Night and Good Luck demonstrated that the BDX2000 can handle black-and-white beautifully.
It was less impressive dealing with the washed-out sunlight and constantly moving camera of Mission: Impossible III (chapter 7). Though we spotted no obvious flaws, colors looked duller and less vivid than in the other tests.
The BDX2000 did excellent work upscaling DVDs. It showed incredible detail(by DVD standards) in our Lord of the Rings: Return of the King test (chapter 22).
The slim-line unit looks sleek and compact, with fairly large, easy-to-hit buttons, but it's not especially well designed. A flap that covers the entire front of the player opens when you eject the tray and stays open even after the tray closes, inviting scraped shins or bumped elbows.
The boxy remote control can be clumsy to use. The front part is dominated by 24 tactically identical buttons laid out in a grid, which makes it confusing to use. The essential Pause button is small and to the side; you can easily miss it and hit the Stop button by mistake. The buttons all glow in the dark, but not all of their labels do, so you may see a button but not know what it does. This remote isn't programmable.
The onscreen menus are easy to navigate and pleasing to the eye, though some explanations would be useful. If you don't know what "HDMI Multi(Normal)" means, you'll have to look it up in the manual. (It means that Dolby and DTS audio will be output as a bitstream.)
The BDX2000 took 69 seconds to load the Independence Day Blu-ray disc. That's not the worst loading speed I've seen, by a long shot, but it's on the slower side of normal.
The BDX2000 comes with an SD Card slot in front, which doubles as extra BD-Live memory and multimedia. You can use it to view JPG photos, listen to MP3 and unprotected WMA music, and watch AVCHD videos. There is no USB port, however. The ethernet connection is strictly for BD-Live; you can't even use it to update the player's firmware.
Macworld's buying advice
When you consider its details, the BDX2000 seems like nothing special. But when you look at the gorgeous picture on your HDTV, you'll know it's a real bargain.
[Lincoln Spector is a contributing editor for PC World.]