We now approach one of the busiest travel seasons of the year and, let's face it, much as we love visiting friends and relatives, getting there during such seasons can be hell. Don't compound the problem by overpacking or putting the wrong stuff in the bag. To help you take just what you need (and what you'll enjoy having with you) please accept these holiday travel tips.
1. Consider your ride
The means you choose to travel will influence what you take. If you're flying, you'll want to pare it down so that valuable gadgets—camera, laptop, tablet, and portable entertainment device—can be placed in your carry-on. I prefer to throw that stuff in a backpack that fits under the seat in front of me, thus saving an overhead bin for a bag containing items that I won't need during the flight. Placing the bag within reach ensures that you can get to your toys at all times (except during takeoff and landing, of course) plus relieves you of the worry of it being tossed around by careless baggage handlers.
But if you have to travel light, you must make some tough choices. Laptop or iPad? Point-and-shoot camera or DSLR? Hardback book or Kindle? (Okay, that one's not hard at all.) It's a balancing act. How much can your bag hold? Is your iPhone good enough for the snapshots you want to take? And how much weight can you stand to carry when you hop off the plane?
2. Choose a checkpoint-friendly bag 
If you're going by plane and would like to move through the security line a bit faster, the first step is to get a "checkpoint-friendly" carry-on bag. These are bags designed to make it easier for airport security personnel to see the contents of the bag's computer compartment. Some use a slide-out computer sleeve, while others unfold so that the laptop compartment lays flat—by itself—on the scanner belt. An Amazon search for checkpoint-friendly bags produces scads of results.
3. Get your cables in order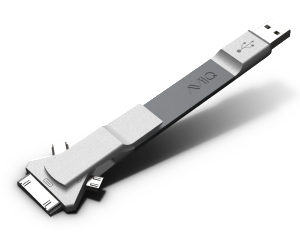 Additionally, when packing, try to not create a rat's nest of cables and connectors. A poorly packed bag may result in having the bag hand-checked, which can be more than a little inconvenient if you're late for your flight.
Short cables take up less space and are lightweight. Check out Griffin Technology's $25 USB Mini Cable Kit, which offers three short (3.5-inch) USB cables in one package and Incase's $25 USB Mini Cable Kit, which contains 4-inch versions of a USB-to-30-pin dock connector for iPads and pre-2012 iPhones and iPods, as well as USB-to-Micro-USB and USB-to-Mini-USB connectors.
Another option is an all-in-one connector tool like Aviiq's $30 Quick Change Universal Dock Adapter. The company also offers assorted $30 cable kits, which include a pair of the company's Ready Clip USB Mini Cables.
4. Don't forget power
Chances are, you have a gaggle of devices that charge through a USB cable. Throw a compact charging station in your bag and they can all charge at once.
Macally's $25 3-Outlet Power Strip with USB Charger weighs just 4.8 ounces, plugs into a single wall outlet, and sports three AC outlets—one on the front, one on the left, and one on the right—making it easier to connect bulky power adapters without covering other outlets. The USB-charging ports each provide 1.5A of power, which means they can (slowly) charge an iPad. The prongs fold into the charger's body for travel.
For road warriors who need a USB hub and power, Macally sells the $40 Portable Power Strip with USB 2.0 Hub and Charger. At 5.5 inches long, 2 inches wide, and 1.6 inches thick, this 9.5-ounce power strip is a bit bulkier than the Macally product above, but it boasts two power outlets (alas, two-prong versions), a 2.1A USB-power port for charging an iPad or other tablet, and a four-port powered USB hub. (One of the ports on the hub offers 1A of power for charging an iPhone or other smartphone.) You connect the USB hub to your computer using the built-in, 10-inch USB cable, which slips into a groove in the body of the Power Strip when not in use. The Power Strip comes with a 6-foot power cable, and also offers surge protection via a built-in "power switch with protection circuit breaker"; but as with the 3-Outlet Power Strip, Macally doesn't indicate the protection rating.
5. Bring a keyboard for comfort 
If you're traveling by car and have plenty of trunk space, you have more options. Unsure whether you can stand typing on an iPad for a week? Pack a wireless keyboard like the Logitech Tablet Keyboard for iPad ($70), Logitech Wireless Solar Keyboard K760 for the Mac and iPad ($80;  ), or Apple's Wireless Keyboard ($79;  ).
Still not convinced that your iPad can handle all the tasks you demand of it? Take the laptop too.
6. Consider packing speakers 
Love music but pretty sure your lodgings will offer nothing more sonically substantial than a bedside clock radio? Bring along some powered speakers. Your happiness might be worth the added weight.
7. Opt for a traveling entertainment system
Assured of a decent broadband connection but limited TV programming? There's always room for an Apple TV. In fact, WaterField Designs' $45 Apple TV Case makes a great travel pouch for the Apple TV, power cord, HDMI cable, and Apple Remote.
One warning: If you'll be connected to the typical hotel "high-speed" network, forget about streaming movies. These networks are almost always unacceptably slow. In such cases, pack some movies with you. Put a few directly on your iOS device or laptop, bring a portable hard drive loaded with movies and jack it into your laptop, or store media on a Wi-Fi-enabled hard drive that lets you stream directly to a computer or iOS device. (See Macworld for advice about Mac-compatible drives and PCWorld about PC-compatible ones.) If you have a laptop that can play DVDs, bring some along.
This story, "Seven tips for pain-free holiday traveling" was originally published by TechHive.