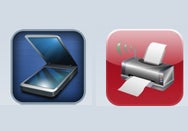 Readdle's Scanner Pro lets you turn the iPhone's built-in camera into a portable scanner for uploading documents onto your phone. EuroSmartz's Print n Share lets you print e-mail, attachments, images, contacts, documents, and Web pages to any network-connected printer you've linked up to your iPhone. Wouldn't it be great, productivity-minded iPhone users are doubtlessly wondering, if those two apps could somehow work together, so that documents scanned with one tool could be easily printed via the other?
Done and done.
The latest version of Scanner Pro, now available via the App Store, adds integration with Print n Share. According to Readdle, the integration means that owners of both apps can scan and print documents to any USB, Wi-Fi, Bluetooth, or network printer via a Mac (or a PC, if that's the way you care to play it).
That's not the only compatibility feature added to Scanner Pro 1.2. The app also offers the ability to upload scanned documents to Dropbox, the online file storage and syncing service.
Both Scanner Pro and Print n Share cost $7 to download from the App Store.