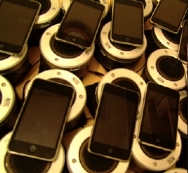 With Apple's decision to release the tools necessary to develop iPhone apps, developers have taken our favorite mobile device to places you wouldn't expect. Ocarina encouraged iPhone users to think of their phone as a unique musical instrument. Now, academia wants to push that idea even further.
Over the past year, several well-respected colleges have created ensembles built around the idea of using an iPhone or an iPod touch combined with wrist-strap USB speakers to play music compositions. Following the lead of Stanford's Mobile Phone Orchestra, the Helsinki Mobile Phone Orchestra, and the Berlin Mobile Phone Orchestra, the University of Michigan has assembled their own mobile phone ensemble.
Michigan's is unique in that they have built a college course around it. The course is called "Building a Mobile Phone Ensemble" and it is taught by Georg Essl, one of the leading developers behind the research that led to Ocarina.
In this class, students not only have to compose and conduct performances with their iPhone instruments, but they also have to write their own software to create instruments. Using an environment that allows students to rapidly prototype mobile phone instruments, students can use the accelerometer, compass, multitouch screen, GPS, and wireless sensing to program and play synths to be used for their own custom iPhone instrument.
A podcast video provided by the university has Essl explaining his approach with the goals of his class, accompanied by footage of his student's work. One of the instruments demonstrated has a student raising their arms to summon swirling R2-D2 bleeps and bloops, only to have it all crashing down in an explosion of noise as he lets his arms fall to the ground.
The Michigan Mobile Phone Ensemble have already performed with software developed by Essl and Smule's Ge Wang, but on December 9th they will perform in public with their own compositions and software.
I think I see a YouTube sensation in the making. We wish them the best.
[via Gizmodo]