Editor's Note: The following article is reprinted from Macworld UK. Visit Macworld UK's blog page for the latest Mac news from across the Atlantic.
Apple Macs are famous for lots of things. They are the tool of choice for designers, writers, and video editors. Creative types, basically. Then there's the education market, where Apple Macs are seen as a reliable and easy to maintain teaching tool.
Less well known is that Macs are also the stock-in-trade tool for the scientific community. And although it doesn't like to talk about it (perhaps, understandably) Apple plays a big role in "certain US government departments" where security is something of an issue.
But the hotel industry? Well that was a new one to us. So when Darren King of UK-based Apple Premium Reseller Square Group asked us to meet up with Will Oakley, General Manager of London's uber-cool Bermondsey Square Hotel to look at some Macs in action we couldn't refuse.
The reason? Bermondsey Square has recently asked SquareGroup to take out its televisions and replace them with iMacs, all networked to an in-house Xserve.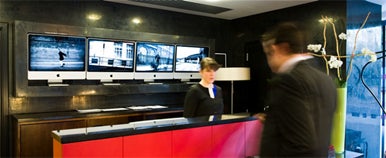 While we love Macs, our first question was why rip out the televisions? Will Oakley explained: "I don't personally enjoy going into a room where the television is the focal point. The way we're designing rooms here it mean that aesthetically it doesn't overpower the space in the room." There are practical reasons as well though: "The quality of the screen is as good as any 50-inch plasma screen you can buy."
Replacing a television with a computerized system is an obvious choice for many hoteliers. And we've seen many hotel televisions moving beyond simply screening television shows. "Another most important thing was the fact that I could use the system to communicate with the guests in a way that we are used to today, which is over your computers," explained Will Oakley, "there are various marketing opportunities within all that, but the thought-process is that we can be quickly reactive. If something changes that affects customer demands we can react internally because we are using a computer."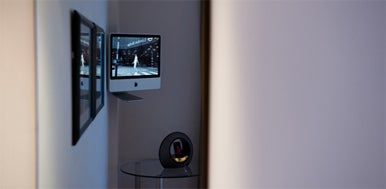 For example, if the hotel has a number of visitors attending a nearby conference they can use the Macs to deliver information regarding travel and the event agenda. "It allows us to in some shape or form promote other businesses in the area," said Will Oakley, "or we can have a direct link into London Bridge railway times, for example, so our customers can plan their journey."
As for why the Bermondsey Square Hotel choose a Mac over a PC, you only have to visit the hotel to get a feel for what kind of computer fits in with its stylish decor. "There's an immediate quality aspect," Will Oakley told us. "You've got the Mac television; you've got the Hansgrohe shower, and high spec hairdryer and mattress. So what we put into the room we wanted to put high-quality, so we get the basics right in terms of sleep and comfort, wash and time spent in the room…and you have all of that in a very neat package that is recognized as being a quality package."

On top of that, the Mac is also a fully functioning computer, although this wasn't a key reason for introducing the Mac to the hotel room. As Will Oakley explained: "The market we're drawing on is a young professional market. It's a BlackBerry, iPhone, and Apple Mac driven market. Obviously brand loyalty and brand recognition plays a big part in the decision to place Macs here… but most people coming here will bring their own laptops."
Having said that, the system does work as a full computer, and it includes features such as Skype. Mostly, however, the Mac runs a custom software build developed by DirecStreams. It also comes with a custom remote (also provided by DirectStreams). This remote replaces the standard iMac remote with fully navigation controls, volume controls, power, and a play/pause button.
DirectStreams also provides the backbone for streaming audio and video to the Macs. Customers looking for just television don't need to worry because the service can provide HD digital broadcast TV, radio channels, plus On Demand music, videos, and games.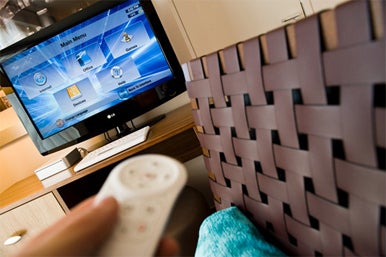 "Overall it was a much bigger investment," said Will Oakley, "but at the end of the day it's a computer system. If the programs not there today, it can be there tomorrow or next week because we can have it bespoke written for us."
And the benefit of spending that money up front on a Mac system? Will Oakley told us: "Fundamentally hoteliers want to deliver a bedroom that is better than the one you have at home. And there's very little that you can do nowadays that you can't have at home. By using the Mac TV system with the high spec shower and mattress: there are three things your guests might not have at home. The wow factor is there. There's a perception of quality as soon as someone's walked in and you know they'll have a great time."